The Pleasures of Wild and Foraged Foods
Ben "the Mushroom Man" Maleson visits MET class
There was only one way Netta Davis could have introduced Ben Maleson, commonly known as "the Mushroom Man," to her wild and foraged foods class, and that was with a story.
Earlier that day, Davis (GRS'13), a Metropolitan College lecturer in the gastronomy program, met Maleson outside T.W. Food in Cambridge to pick up the mushrooms he had foraged for her class that evening.
Mid-transaction, a man driving a fancy car pulled up across the street, rolled down his window, and called to Maleson: "You're the mushroom guy."
Unfazed, Maleson replied, "Yes, I am."
"Do you have truffles?"
"Yes, yes I do."
The man whipped his car around, Maleson's wife Mei-Ching pulled out a scale from their trunk, and the men sealed the deal.
"It was the funniest damn thing," Davis told her students as they cleaned a wild-mushroom bounty of beefy wine caps, loaf-like porcini, fluted chanterelles, and brainy morels in the demonstration kitchen at 808 Commonwealth Ave.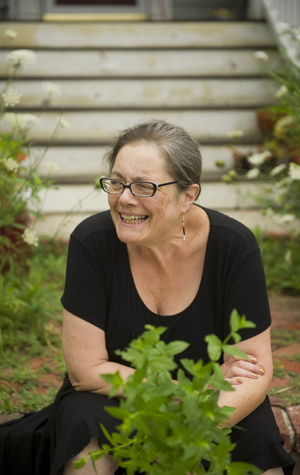 This promised to be one of the more hands-on, and tastier, parts of MET ML 620 Wild and Foraged Foods, which tackled the academic side of foraging on Tuesdays and the more experiential side on Thursdays. Lectures touched on the history, science, law, marketing, and culinary approaches associated with foraging, augmented by field trips to Cambridge's Fresh Pond to forage with local wild food guru Russ Cohen and to Squantum's Nickerson Beach with science teacher and ecologist Joel Rubin, who is also Davis' husband. And when the class wasn't foraging, guest lecturers like Maleson or Didi Emmons, a chef, author of Wild Flavors, and instructor at Haley House, arrived to share their knowledge.
Davis hopes her students learn about wild edible plants and to forage, but mostly wants them to "understand why people do it, to think analytically about eating wild and foraged foods and the act of foraging."
People have been foraging since prehistoric times, but the practice has grown in popularity recently as more consumers, skeptical of industrial food production, turn to organic produce, farmers markets, or home gardening. Davis sees this current trend as cyclical, going back to the days of Henry David Thoreau, and thinks it plugs into some people's desire to learn a craft, focus on food quality, and wax nostalgic for leaner times.
"It's clearly something that's having its cultural moment," Davis says. Still, "the vast majority of people in the world do it because they have to, not because it's cool or so they can sell their elderberries for $30 a pound."
On this particular Thursday night, Davis and her students had just finished mincing shallots and prepping piles of fresh herbs when Maleson walked through the door, his apprentice, Tyler Akabane, and his wife in tow.
"How do you find the entrance to this place?" asked Maleson, entering the demo kitchen with a collection of wicker baskets that sat nestled one inside the other like Russian dolls, the top one mounded with maitake mushrooms he'd discovered growing in the wild.
Maleson is a walking mushroom encyclopedia. He knows (at a minimum) the Latin, Russian, Japanese, and common English names of hundreds of mushrooms, has foraged and eaten most of them, and has a story about each of his foraging excursions, many of which he shared with Davis' class.
Wearing his long gray hair in a loose braid topped with his trademark battered fedora, Maleson is clearly a character. He told the class about how he was once arrested for picking a mushroom in a California county park, suffered food poisoning from an unfriendly species, and survived a kitchen fire that severely scarred his hand—which he now wraps in gauze from fingers to wrist.
Pausing to inspect the countertop display, Maleson asked, "So, how do you clean mushrooms?" The question came off more as a test than a true inquiry. Davis said that they had soaked the morels, washed the wine caps, and rubbed off the dirt on other species with damp towels.
"I have another technique," Maleson said. He pulled out a straw and blew bits of dirt from his maitake collection. Davis loved the idea. And the best part about straws, he said, is they're free. (He prefers foraging at Starbucks and Au Bon Pain.)
While Maleson entertained, Davis prepared each variety of mushroom in a different manner and served them to the class. She sautéed the chanterelles Maleson had foraged in a generous helping of butter that brought out the flavor of chicken; simmered his morels in a mixture of cream, shallots, and butter that showcased their nutty flavor; and transformed white button mushrooms (foraged from Stop & Shop) into a smoky Hungarian mushroom soup that carried a kick of Spanish paprika.
"What was I supposed to be talking about?" Maleson asked at one point.
"Tell us how you learned to be a forager," Davis suggested.
Maleson launched into another string of stories. His interest in foraging began as a child when a friend of his mother invited them for a walk in the woods near her home in Albany, New York, where they picked russulas, a broad-capped mushroom with a reddish tint. His mother continued to forage with him near their Brookline home and bought him his first guidebook when he turned nine years old. They poured over the pictures and descriptions whenever he brought home a new species. And as a "hungry boy" in a large family, he foraged for mushrooms on the way home from school and sautéd them in butter for a filling after-school snack. It wasn't until later that a friend convinced him to begin selling his finds, suggesting they could fetch good money from foodies and restaurant folks.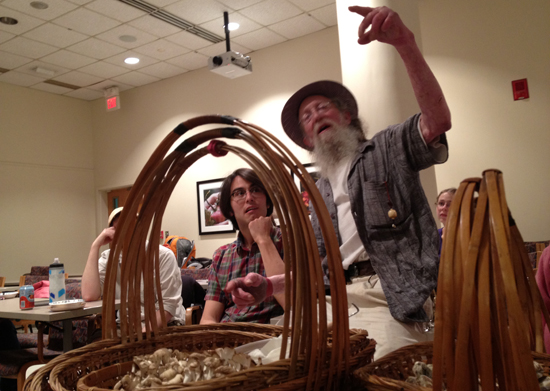 Three types of mushrooms are found in the wild, Maleson explained: mycorrhizal, which grow symbiotically on tree roots; saprophytes, which break down dead material; and parasites, which leech from living organisms. He tends to forage for mycorrhizal species, usually looking around oak, balsam fir, and spruce trees. And rotting trees or wood chip piles, he said, are a good source for wine caps.
Maleson recommended students buy a good guidebook (he prefers The Mushroom Trailguide by Phyllis Glick or an Audubon Society guide) if they intended to forage. Considering some mushrooms can cause severe reactions—and even death—when eaten, he urged newbie foragers to tag along with an expert. Davis also recommended sticking to familiar spots, like personal property, and areas removed from highways or industrial sites where pollution and soil contamination are more common.
Occasionally, students snuck a question into his monologue. "When would you need to eat these by?" Katherine Yunker (MET'13) asked, referring to the mushrooms Davis was preparing. "Before the worms do," Maleson replied. He wasn't joking. Maleson said he's picked certain varieties of mushrooms, left them on the kitchen table overnight, and found only worms and a mound of dust the next day.
Others wanted to know where Maleson finds his mushrooms, a subject he chose to evade. "I could tell you," he said playfully, "but then you'd have to die of a poison mushroom."
Maleson is reluctant to reveal his hunting grounds because amateur foragers have started invading his territory. He's had to select new sites and less common species as people, bulldozers, and new developments move in.
"I don't like to go to a place where someone else has been," Maleson said. And while he encouraged students to forage, he warned them not to "poach my patch."