Shopping for Red Sox Tickets
Six ways to buy tickets without breaking the bank
For die-hard Red Sox fans, today marks the true arrival of spring. Opening day at Fenway Park sees the Red Sox take on the Baltimore Orioles, at 2:05 p.m. In years past, it would have been nearly impossible to find seats at Fenway still available near the start of the season, never mind approaching affordable. But after last season's dismal record—69-93, the worst since 1965—demand for tickets is down 10 percent from a year ago. That means seats are not only easier to get, but cheaper as well. (And in an effort to woo more fans, the ballpark is offering two for one hot dogs and $5 beer during the month of April.)
In 2010, the average opening day ticket went for nearly $450. Fans attending today's home opener are paying about half that. This spring's average preseason price for a Sox ticket was $118.72, down from $151.10 a year ago. The Red Sox have sold out an astonishing 793 straight games at Fenway Park, but team executives expect that streak to be broken this season.
Despite the drop in sales, a ticket to a Red Sox game is still a hot commodity. The team is off to a strong start, and if the Sox continue to play well in the coming weeks, fans may once again have to pay top dollar. With that in mind, BU Today offers personality profiles of six buyers, each with a unique strategy. One of these strategies just may get you inside Fenway Park.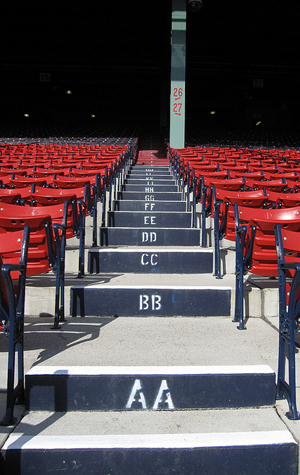 The Opportunist
Boston University is offering a "Fenway Takeover" to its 2013 graduates on Tuesday, May 14, as a part of Senior Week. Tickets are $20 for the Class of 2013, and seniors will have a chance to walk on the field, take a picture in front of the Green Monster, and have exclusive access to the concourse.
You can also enter the Red Sox online waiting room for tickets as soon as they go on sale.
The Philanthropist
If you've never thought of a night out at Fenway as a charitable way to spend your time and money, it's time you discovered the Red Sox Foundation. What better way to get your hands on tickets than through the team's official charity? The foundation auctions off tickets for some of Fenway's most in-demand games on its website. You can also experience the game by volunteering with the BU Red Sox Green Team. This group of 30 to 50 volunteers gathers beer cups, water bottles, and other recyclables from fans during the first seven innings—all the while keeping an eye on the game, of course. The Green Team volunteers at two games a month. Find out how to sign up here.
"It was really cool to get to walk all the way down to the field to pick up the recycling for those seats," says Jessica Beavis (COM'12). "I got to get a lot closer to the field than I probably ever would have if I had just purchased tickets. We also got to help the environment. So it was totally worth it."
The Waiting Gamer
Two hours before each game, a limited number of tickets go on sale at Fenway's Gate E, on Lansdowne Street. Unfortunately, fans often start lining up for them four or five hours before game time, so there is no guarantee any will be left by the time you make it to the front of the line. Also, these tickets are typically for single and obstructed-view seats or for standing room. That said, they go for face value, and if you're lucky, you can get into a game that has been sold out for months.
The Headhunter
Buying Red Sox tickets from a scalper typically means paying more than face value—often much more. And although scalping tickets is illegal in Massachusetts, the biggest problem for buyers is not getting busted, but rather winding up with fake tickets. "Ask to look at the ticket," advises one experienced alum. "Make sure the date, time, and opponent are correct. Check whether or not that section and seat exist." To get the best bargain, he suggests buying right before a game begins, right after it has started, or if the forecast calls for rain.
The Gambler
Buying tickets online at craigslist or eBay is another option. Transactions can be faster and easier on craigslist because you are dealing person-to-person. Tickets can usually be purchased at face value on Craigslist, but are often much higher on eBay.
The Doughboy
StubHub is an open marketplace where any person can sell any ticket. Many fans swear by it, but the Doughboy must be prepared to fork over the extra dough. The site charges a 10 percent commission, plus shipping fees or pickup fees. Ace Ticket is another option.
More information about buying tickets to Red Sox games can be found here.
Paul Ryan can be reached at pryan41@gmail.com.