Poems That Invoke Cultural Figures, from Harriet Tubman to Dr. Seuss
National Book Award–winner Terrance Hayes reads at BU tomorrow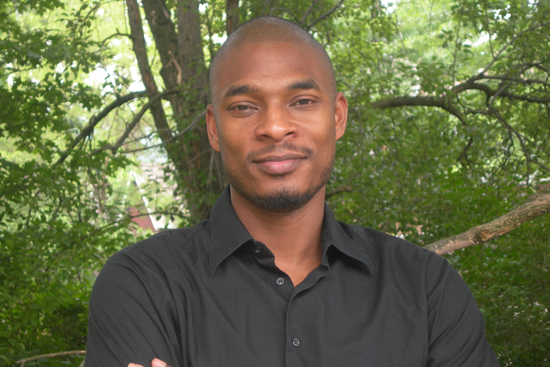 Ask Terrance Hayes how he writes a poem, and you get a glimmer of why he is one of America's most distinctive young poets.
"I sneak up on it while it's sleeping," he says. "Sometimes it sneaks up on me. We wrestle. The poem is an animal. I stick my head in its mouth."
The answer is characteristic of Hayes' poetry: vivid and intense, playful and witty. Hayes, whose most recent collection of poems, Lighthead (Penguin, 2010), earned a National Book Award in 2010, will read from new poems tomorrow night at the Robert Lowell Memorial Poetry Reading at 7:30 p.m. at The Castle.
Hayes is hailed for his explorations of identity, popular culture, and race. The best-selling poet and memoirist Mary Karr (Liar's Club) says his work "will disturb the comfortable and comfort the disturbed."
The 41-year-old poet's work refuses to be confined to any one poetic style. "Poetry is, as Aristotle said, a mimetic art," says Hayes. "Poems absorb/imitate/reflect all other art forms, poems absorb experience, dreams—the world. Any style or creed that narrows poetry does a disservice to poetry.
"And so, anyway, I prefer breadth, surprise, and change to style."
Hayes' experiments with form and style are evident in the series of poems in Lighthead, inspired by Pecha Kucha, a concise kind of presentation style invented in Japan. In those poems, he says, he was "trying to wed story and song, narrative and lyric. Trying to make a story cohere by way of associations and fragments."
The semiannual Robert Lowell Memorial Poetry Reading honors American poet Robert Lowell, who taught such influential poets as Anne Sexton, Sylvia Plath, and George Starbuck at BU in the late 1950s. Appropriately, Hayes says that among the new poems he plans to read from tomorrow is one that "owes a great deal to Lowell's 'Skunk Hour.'"
Hayes, who teaches creative writing at Carnegie Mellon University, initially trained as a painter, but he found himself drawn to the language, music, and imagery in poetry. "Plus," he adds, "it was more affordable to make poems than paintings." The poet's work has been featured in The New Yorker, Ploughshares, and Poetry. He frequently looks to figures in American history and culture—from Harriet Tubman to Dr. Seuss—when writing about such issues as race.
Joining Hayes at tomorrow night's reading is poet and translator Ani Gjika (GRS'10), who will read from her recently published first collection of poetry, Bread on Running Waters (Fenway Press, 2013).
For Gjika, the journey to becoming an American poet has been more circuitous than it is for most of her contemporaries. She grew up in Albania, where at eight she began lessons in English. She immigrated to the United States at 18, and as an undergraduate at Atlantic Union College fell in love with American poets like Emily Dickinson, Wallace Stevens, and Robert Frost. Gjika earned a master's degree in English at Simmons College before enrolling in BU's Creative Writing Program.
In Albania, Gjika shared a one-bedroom apartment with her parents, brother, and grandmother, an experience, she says, that in retrospect shaped her creative life. "I lived in a small space," she recalls. "I think it definitely helped expand my imagination."
Many of the poems in her collection explore the darker side of life in Albania: families eavesdropping on one another, always being watched, people being taken into the woods and shot.
Gjika says it's only recently that she's become aware of the influence her work as poet and as translator have on each other. (She is currently translating the work of Agron Tufa, a distinguished contemporary Albanian poet, as well as poems written by her mother.)
"When it comes to translating and writing poetry, in my mind, they're more of the same thing," says Gjika. "When I'm writing a poem of my own, I am translating in the sense that I'm trying to find the right words to express what I think and feel. Language often isn't available. I still feel and think in Albanian or even in a nonlanguage, because my Albanian is that of an 18-year-old and my English that of someone who was pretty much born at 18, having none of the foundations of language and meaning-making one normally builds on from as a child."
The 34-year-old says she often finds inspiration in train rides, train stations, and airports—places "where people are leaving and arriving…because that feels like home to me." Not surprising given her peripatetic life: three years spent in Thailand and several extensive trips to India as well. She says she's also invariably inspired by great poetry and cites as sources of inspiration the work of Louise Glück, a visiting professor in BU's Creative Writing Program, Michael Hofmann, Li-Young Lee, and Anna Swir, among others.
Robert Pinsky, a College of Arts & Sciences professor of English and a three-time U.S. poet laureate, says that poets like Hayes and Gjika "suggest where American culture is headed, or where it has already arrived and awaits notice." He says that Hayes' "comic intelligence overturns or turns inside out complicated familiar notions and formulas about race" and that Gjika's poems "suggest new realities and new imaginings that defy familiar notions about our old, central story of immigration to the United States." Tomorrow's reading, he promises, will provide "a fresh and entertaining view of the contemporary world, through the lens of imagination."
The Robert Lowell Memorial Poetry Reading is tomorrow, Thursday, February 21, at 7:30 p.m. at The Castle, 225 Bay State Rd. The event is free and open to the public. A book signing and reception immediately follow.
The Robert Lowell Memorial Poetry Readings are funded by Nancy Livingston (COM'69) and her husband, Fred M. Levin, through the Shenson Foundation, in memory of Ben and A. Jess Shenson.