Playing for Pride
With postseason trophies nixed, Terriers keep winning
The women's basketball Terriers were on fire this year. For two solid months, the Boston University team won every game it played—13 in all—and finished the season with a 23-5 record, 13-2 in the America East conference.
"At the end, looking at the final record is great," says head coach Kelly Greenberg. "But to see this group really enjoy each game and each practice was the best part for me."
With a record like theirs, Greenberg's team would normally be the one to beat in the conference tournament, and potentially, a national title favorite. But this is not a normal year. Presidents of other institutions in the America East conference voted to ban BU teams from postseason play this year after the University announced last summer that it was switching to the Patriot League as of the beginning of the 2013–2014 academic year. The tournament ban also makes it less likely that BU teams will be able to enter national tournaments, like those sponsored by the National Collegiate Athletic Association (NCAA).
The only BU intercollegiate teams not affected by the ban are those that are not changing conferences, among them men's and women's hockey, men's and women's rowing, women's golf, and wrestling.
Michael Lynch, BU assistant vice president and director of athletics, says the presidents of America East schools did a disservice to student-athletes by punishing them for the decision to switch conferences, which they had nothing to do with. Mainly, he says, he's impressed by the response of BU's student-athletes: instead of stewing about the decision and harboring hard feelings, the Terriers "channeled that energy into doing the best they could with a lot of dignity and a lot of pride."
BU team records prove Lynch's point. Women's soccer went undefeated in the conference. Women's field hockey finished number 18 in NCAA rankings. And men's basketball posted a six-game winning streak and ended the season 17-12 overall.
Greenberg says the postseason ban was hard for her team to accept, especially for the four seniors, but she was proud of how well the players adapted. The coach also shifted gears, adjusting her goals but continuing to "prepare for each game like it's our last," she says. "I wanted to ensure we were all having fun and that we were the most prepared team. And we did that this year." Because of the women's strong season, she thinks they are a shoo-in to make the Women's National Invitation Tournament, and that they may earn an at-large bid to the NCAAs.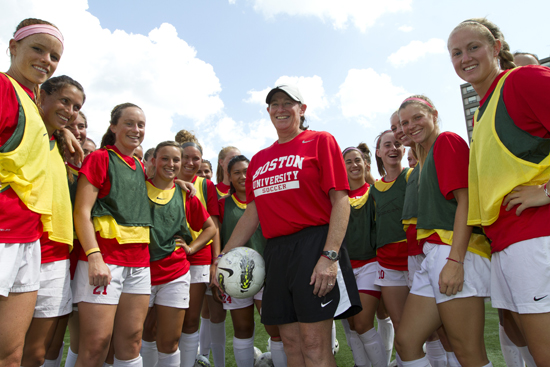 Women's soccer head coach Nancy Feldman describes herself as a move-on person. Once she and her team had thoroughly digested the disappointing news, they focused on going undefeated in the conference, winning the regular season, and grabbing an at-large bid to the NCAAs. She knew there was nothing they could do about the tournament ban, but told her players, "we can play for pride, we can play for BU, and we can play for the athletics program." Her big question to players then became: "How do we want to be remembered?" Apparently, as winners. Feldman's team accomplished the first two goals, going 8-0 in America East and finishing the season 12-6-1.
"The decision that we weren't able to play in the tournament ignited a fire under everyone," says midfielder Megan McGoldrick (COM'14), who is returning next year. "It brought a spark and people wanted to do well at every moment in every game."
Ultimately, the Terriers fell short of their third goal when the team wasn't selected for the NCAAs. Students were stunned when the reality sunk in that their season was over. "It doesn't really happen where the finality isn't on the field," Feldman says.
The end was less dramatic for the men's basketball team, which had no seniors on its roster after star 6-foot-9-inch forward Jake O'Brien transferred to Temple last summer for a chance to play in the postseason. The loss could have been an additional setback for the team, but younger players—like D. J. Irving (MET'14), Dom Morris (MET'14), and Travis Robinson (SMG'14)—stepped up and assumed leadership roles.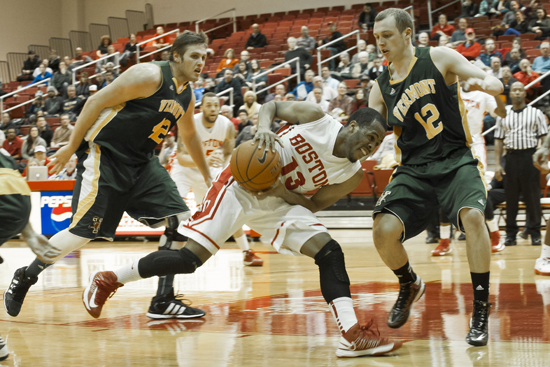 Men's basketball head coach Joe Jones says his focus has been on helping his players improve. "To be honest with you, I haven't really thought about the conference tournament at all," he says. "You're so locked into preparing your team, helping guys grow as people and as players, you get caught up in the job."
Both coaches and players, while sad to leave the America East, say they look forward to starting fresh in the Division I Patriot League, which holds its teams to rigorous academic standards. The Terriers next year will compete against peers at American University, Army, Bucknell, Colgate, Holy Cross, Lafayette, Lehigh, Loyola, Navy, and—in women's rowing—MIT. "Next to the Ivy League, it's the highest rated conference in terms of academic success," Lynch says.
For her part, Feldman thinks the Patriot League offers another enticing hook for young recruits considering BU, and she looks forward to a new challenge after 18 years competing, and blowing away rivals, in America East.
"You get only one chance to make the first impression," she says, "and we want to make a really good first impression."