Nightlife: The Lower Depths Tap Room
"A beer bar for beer lovers"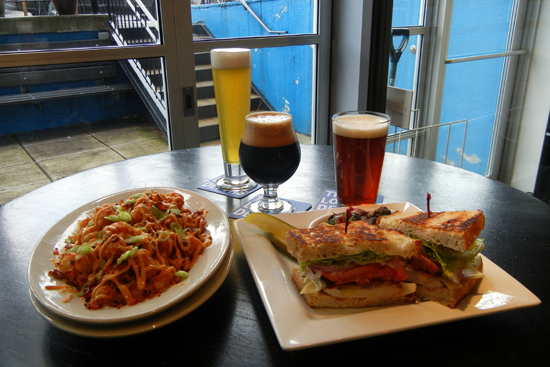 It's easy to miss Kenmore Square's Lower Depths Tap Room, tucked away below street level on Comm Ave. But the bright blue and white sign at sidewalk level is a kind of beacon, drawing beer lovers from all over Boston. With more than 150 bottled beers and 17 rotating drafts to choose from, the place functions as both casual neighborhood bar and gathering place for serious beer aficionados.
Yes, you'll find stalwarts like Pabst Blue Ribbon and Harpoon on draft. But there are harder-to-find selections, like BBC Coffeehouse Porter and Jack's Abby Jabby Brau. The Lower Depth's bottle list is almost encyclopedic: lagers, pilsners, bocks, porters, stouts, wheats, lambics, ciders, fruit beers, and enough ales (brown, strong, scotch, amber, and pale) to please any palette. Find a complete list of beers available by the bottle here.
The bar also offers a small but adequate wine list. But for other alcoholic beverages, it's the wrong place. The Lower Depths serves no hard liquor.
The menu features classic bar fare: chicken tenders ($10), grilled chicken quesadilla ($10), and nachos ($11). We ordered the nachos—good, but nothing extraordinary. But there are more unusual specialty items available too: beer cheese dip ($8), a combination of gooey American cheese, tomatoes, onions, green chilies, and beer, served warm with tortilla chips; arancini ($6), panko-crusted deep-fried risotto balls with different fillings and sauces; and entrées like the car-beer-nara pasta ($12), spaghetti tossed with bacon and peas in a garlic wheat beer butter sauce. But the best deal on the menu is the Fenway Frank. A grilled all-beef hot dog or veggie dog is just $1 ($2 for a foot-long) and arrives in a toasted, buttered New England–style bun that makes a standard hot dog roll pale in comparison. A selection of "pimp toppings," like sauerkraut, are available for an additional dollar each, but all of the standard toppings (mustard, ketchup, relish) are free.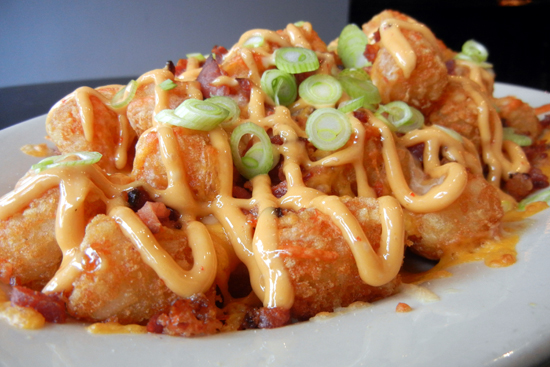 Lower Depths' interior is inviting and cozy. The one room features a bar, some stools along the wall, and just over a dozen small tables. A few TVs above the bar offer a mix of sports, news, and entertainment. The room is anchored by a huge mural, inspired by Maxim Gorky's dark play The Lower Depths, of real-life Americans the bar's owners say could have been characters in the play: among them rockers Sid Vicious and Patti Smith, daredevil Evel Knievel, and, of course, Gorky himself.
During warm weather, patrons can enjoy the small outdoor patio, but only if they're ordering food as well as drinks. For drinks only, you have to sit inside.
Favored guests are invited to join the Mug Club. The club's membership card is given out selectively to patrons well-liked by the staff. A card holder has six months to attempt to drink all 150 of the bottled beers on tap (so you'd better plan on being a regular if you're asked to join). Anyone completing the challenge is given a 26-ounce mug to be stored at the bar. Members name their mug after well known lowlifes, and the name is then engraved on the mug. Best of all, members get a discount on the draft beer of the night.
The Lower Depths is a popular destination for tourists and sports enthusiasts when the Red Sox play at home: it can be almost impossible to get a table on game days. But the rest of the time, the tap room attracts an interesting group of friendly regulars—people like local sculptor and painter David Bowen, whose ceramic masks decorate two of the bar's walls.
Given its convenient location, reasonable prices, and ample beer selection, the Lower Depths is a good place to enjoy a quick drink at the bar or a longer meal with friends. If you're going, stop at a bank machine first, as the place proudly insists on cash only. There is an ATM next to the front door.
The Lower Depths Tap Room, 476 Commonwealth Ave., Kenmore Square, phone: 617-266-6662, is open every day from 11:30 a.m. to 1 a.m. Brunch is served Saturday and Sunday from 11:30 a.m. to 3 p.m. You must be 21+ to enter after 10 p.m. and before and after Red Sox games. At other times, those under 21 are welcome to order food and nonalcoholic beverages.
Andreia DeVries can be reached at adevries@bu.edu; follow her on Twitter at @andreia_dev.