CFA Citizen Artists Perform for Injured, Staff at BMC
Students bring comfort of music to Marathon bombing victims
The Boston Marathon bombings injured close to 300 people, many seriously. And along with Boston's other hospitals, Boston Medical Center has been treating the wounded since the bombings. Surgeons and nurses there have treated 23 victims, most of whom have been discharged. But dozens of hospital staff have been working nonstop and are still on duty.
Last Friday, a group of "citizen artists," students from the College of Fine Arts, brought their music to BMC to offer the kind of relief that so often comes with music. In fact, they have been doing so since the tragedy struck.
The Boston Medical Center lobby is much different this day than it was the week before. A light but steady flow of people—some in hospital garb, others in street clothes—walk by a duo playing violin and piano in the atrium.
Pianist Racquel Gorgojo (CFA'13) is among the students performing. Gorgojo defines her role as a citizen artist: "I'm here just as a helper, or as a tool, an instrument of healing for others."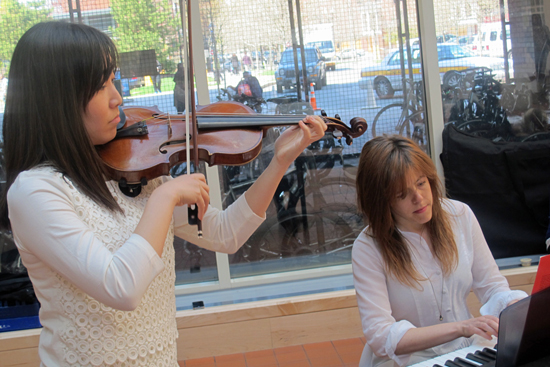 Since last October, BU students have been bringing poetry and music to patients and staff at BMC, the University's teaching hospital, through BU's Arts Outreach Initiative, a unique partnership between CFA and the Medical Campus. But the previous week, classical pianist Moisès Fernández Via, Arts Outreach researcher and coordinator, upped the number of in-hospital performances in response to the bombing. The most intense work was being done on the seventh floor.
Fernández Via describes what it was like. "The whole unit was crowded," he recalls. "We brought six concerts every day to three different spaces at the institution. I left every day with the conviction that this was absolutely a place for music—and that's where the arts should be: where life is and where people are struggling and where people are having lots of questions and not really any answers."
"The past two weeks have been extremely emotional," Marilyn Joyce acknowledges. The nurse manager for BMC's surgical services, Joyce oversees a staff of 80.
"We've worked long hours," she says, "but also there's a certain spirituality to it, working with people who are so fragile at the time and trying to help them get over the suffering that they have."
Joyce says the live performances that filled the seventh floor corridors distracted and comforted the injured, their families—and her staff. "It sort of sent a calmness around the unit that was very much appreciated."
On that Friday afternoon, Joyce had been working 12 days straight. The last Marathon blast victim had left the floor the day before. "At one point, we had 12 people that were involved in that on the floor," she says. "The staff did amazing work in providing empathy and support to everyone."
Joyce describes what it was like to be in the surgical unit with so many who'd been hurt in the explosions. "You're on adrenaline," she says. "Absolutely, everyone is. It wasn't unusual to have a nurse work with a family for a significant amount of time, not only providing physical care but emotional care, and then come out and be emotional and cry, take a few minutes, and go back to the next patient."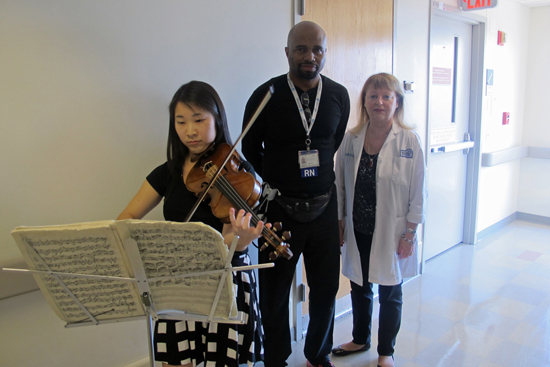 It had been a heartbreaking week for the staff because it all felt so close to home, she says. "A lot of the nurses identified with the patients. Either they were their age, or could be their sister or their mother. There was a lot of identification with all the injuries that we had."
Joyce says that the music definitely helped, and the staff has been requesting more live performances. But she makes it clear that the music's VIP audience was the injured.
"We were very much privileged to have the opportunity to be here firsthand," Fernández Via says, "playing while some people were doing their first steps with one leg, and learning how to cope with the situation. And I think it's a privilege to say that some of these patients did that not with an empty silence, but with the rhythm and the melody and the harmony of a Bach suite."
This story originally appeared on wbur.org on April 27, 2013.