Taking the Stress Out of Finals
Therapy dogs, yoga, free coffee, and more on tap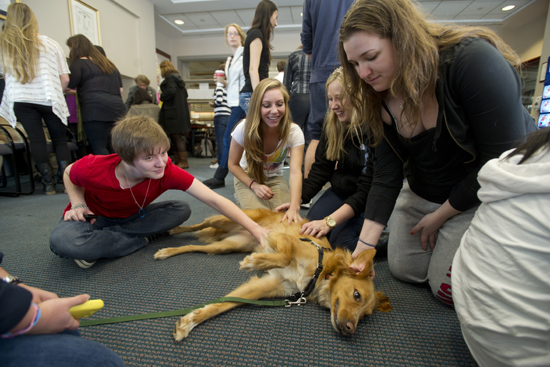 Today marks the last day of classes for the fall term, and finals start Monday. There are papers to be written, books to be read, exams to cram for. The good news is that there's lots going on across campus during study period to help reduce the accompanying stress. So catch your breath. Take a break. Below are a few suggestions for releasing that end-of-semester tension.
Wednesday, December 12
Sunrise Yoga
This early morning yoga class, designed for students of all levels, is guaranteed to have you breathing more deeply and feeling more relaxed. Cristie Siegele (SAR'14) leads a Pura Vida Kripalu Yoga class each Wednesday from 7:30 to 8:30 a.m. on the 26th floor of StuVi 2, 33 Harry Agganis Way. Arrive 10 minutes early and bring a yoga mat and water. The class is free and open to the BU community.
SMG Therapy Dogs
Need some time with a furry friend to get through exams? Stop by the Undergraduate Student Lounge on the second floor of the School of Management, 595 Commonwealth Ave., from 2 to 4 p.m. to play with trained therapy dogs. This has become a popular end-of-semester event, so come early. Students may spend 15 minutes at a time with the dogs.
Danielsen Study Break
Drop by the basement of Danielsen Hall, 512 Beacon St., between 7 p.m. and midnight for free coffee and donuts. Open to the BU community.
Thursday, December 13
Peer Tutoring and Open Study
Need some extra assistance getting ready for finals? Take advantage of the Educational Resource Center's free peer tutoring, from 4 to 8 p.m. on the third floor of the College of Arts & Sciences, 725 Commonwealth Ave. Tutors will be on hand to provide help in chemistry, biology, physics, math, economics, and French. Students are welcome to stop by just to study, too. The ERC will offer free food and coffee at 8 p.m. Open study ends at 10 p.m.

This event will also take place December 14 at the same time and location.
Yoga in the GSU Alley
The Dean of Students Office will sponsor a free yoga class from 7:30 to 8:30 a.m. in the George Sherman Union Alley, 775 Commonwealth Ave., led by faculty-in-residence Karen Jacobs, a Sargent College clinical professor of occupational therapy. Just bring water, appropriate clothes, sneakers, and a yoga mat (no extras are available).
Zumba in the GSU Alley
Too tired to get up for that 7:30 a.m. yoga class? Don't worry. Faculty-in-residence Joanne O'Connor, a College of Communication associate professor, will offer a free Zumba class in the GSU Alley, 775 Commonwealth Ave., from 8:30 to 9:30 a.m.
First Gen Study Break
Are you a first-generation college student? Stop by the University Service Center, 881 Commonwealth Ave., from 12:30 to 2 p.m., for its annual Fall Study Break, with food, hot chocolate, and fun games like Apples to Apples, Taboo, and Scattergories.
B.O.N.E.S. Therapy Dogs
Studying in Mugar? Visit Room 205 in Mugar Memorial Library, 771 Commonwealth Ave., from 5 to 9 p.m. to play with therapy dogs from Dog B.O.N.E.S., a volunteer-run therapy dog service based in Scituate. Student reservations have been filled for one of the dogs, so those who have not reserved a slot can meet with the second dog on a first-come, first-served basis.
This event will also be held Saturday, December 15, from 3 to 7 p.m. in the same location.
Student Health Ambassadors
Wellness Center student health ambassadors will also be on hand in Mugar Room 205, 771 Commonwealth Ave., from 5 to 9 p.m., manning an information table on ways you can reduce stress and handing out free Less Stress Baggies containing snacks, water, health information, and cards with tips on relieving stress.
This event will also be held Saturday, December 15, from 3 to 7 p.m.
Kilachand (formerly Shelton) Hall Study Break
The residence's former dining hall, at 91 Bay State Rd., will host a study break from 9 to 11 p.m. with free snacks and a chocolate fountain. Open to the BU community.
Saturday, December 15, to Monday, December 17
Extended Hours at Hillel House, with Free Coffee and Tea
The Florence & Chafetz Hillel House, 213 Bay State Rd., is offering extended hours for studying from Saturday December 15, through Monday, December 17, as well as free coffee and tea, courtesy of Dining Services, to fuel your study sessions. Hillel House will be open Saturday from 8:30 a.m. to midnight and Sunday and Monday from 9 a.m. to midnight.
Sunday December 16
Get Away Day
Take a break from study and watch the BU men's basketball team take on Quinnipiac at 1 p.m. at The Roof in the Case Gym, 285 Babcock St. There will be free stress balls for all students. And fans can enter to win an airline voucher worth $350, which will be given away at the game.

Know of other study breaks and stress reduction programs we've missed? Add them to the Comments section below.
Erin Thibeau can be reached at ethibeau@bu.edu; follow her on Twitter at @erinthibeau.