Portraying "The Mystery of Unsaid Things"
Colbert Mashile's vision of South Africa at Sherman Gallery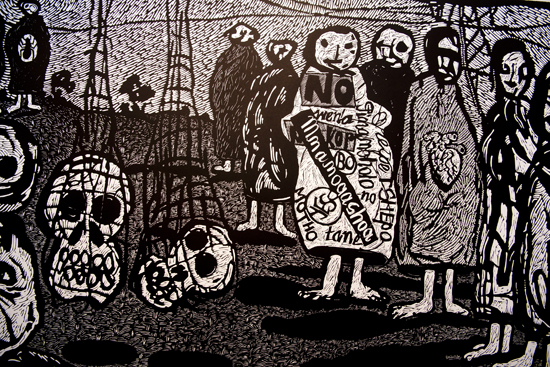 A striking new show at the Sherman Gallery titled Colbert Mashile: Not Yet offers a captivating, deeply personal vision of South Africa by one of its preeminent young artists. In the 24 works created for this specially commissioned exhibition, Colbert Mashile vividly captures the rural landscape and culture of his native country in a series of linoleum prints.
The stark black-and-white prints, filled as they are with finely wrought details, demand close inspection. Inspired by the patterns and prints of South African clothing and decorative objects, Mashile renders his scenes with intricate, hatched patterns of marks. The majority of prints depict figures placed in rural landscapes, and the effect is distinctive: there is a living, breathing movement to his work, which is filled with animals, twisted trees, and human hearts.
"I always use the landscape as a backdrop because I was brought up in the countryside," says Mashile. "My idea is of trying to portray remnants of my cultural worldview, which is informed by my upbringing as an African."
In one of the most captivating pieces, Mmamogashoa, a group of barefoot robed figures huddles together, throwing shadows on grass that is rendered in strikingly complex detail. Their faces are blank and roughly defined, yet evoke wordless sorrow. Skulls dangle in cobweb-like nets, creating a kind of memento mori.
Mashile thrives in the medium of printmaking. He works intuitively and spontaneously, he says, scrutinizing what he has created only after he has finished. After completing an initial drawing, he begins the exacting process of cutting the design into a linoleum plate with a sharp knife before inking the plate with a roller (the grooves and indentations do not pick up the ink) and impressing it into paper. "There's a kind of meditation in it," says the artist. "It soothes me, and I feel comfortable working in this medium."
Many of the prints feature heavy block text bordered in black or red. Words like "Spite," "Rat Race," and "The Moment" are emblazoned in the works. Mashile, says curator Lynne Cooney (GRS'08,'15),
"creates radical juxtapositions of text and image that seem to contradict one another or create ambiguous relationships. Colbert is very interested in disrupting a literal reading of his images." Cooney, College of Fine Arts School of Visual Arts exhibitions manager, first met the artist when she included a few of his works in the 2011 808 Gallery show South Africa: Artists, Prints, Community: 25 Years at the Caversham Press. She says Mashile's work made an immediate impression. "Colbert is an incredibly adept printmaker and artist in general. He has a very unique worldview that I felt worthy of public attention." (This is the artist's first solo exhibition in the United States.)
Born in 1972 in Bushbuckridge, Mpumalanga Province, South Africa, Mashile studied art at the Johannesburg Art Foundation. He went on to complete a BA in fine art and MA in heritage studies at the University of the Witwatersrand. Primarily a painter, he has exhibited work both in his native South Africa and internationally. In 2000, he received the ABSA Atelier Merit Prize, South Africa's most important competition for young artists.
Mashile says that he avoids trying to create an overt political or social message, favoring instead something more intangible: "the mystery of unsaid things."
Colbert Mashile: Not Yet is on display in the Sherman Gallery, George Sherman Union, 775 Commonwealth Ave., second floor, through October 28. The gallery is open Tuesday through Friday from 11 a.m. to 5 p.m., and Saturday and Sunday from 1 to 5 p.m. The exhibition is free and open to the public.
Erin Thibeau can be reached at ethibeau@bu.edu; follow her on Twitter at @erinthibeau.