Nightlife: Howl at the Moon
Guests "become part of the show" at dueling piano bar
During the summer months, BU Today is revisiting some of our favorite stories from the past year. This week, we feature some of the many nightlife venues near BU where one can dance, dine, and listen to music.
When Howl at the Moon opened in Boston more than two years ago, its website promised it would be "the hottest party in the Financial District"—not exactly what you'd think of when you hear the words "piano bar." But then this coast-to-coast chain (Boston is the 15th location) is no typical piano bar. You won't hear Cole Porter or Rodgers & Hammerstein here. This place is strictly rock 'n' roll.
With its dueling piano bar upstairs featuring a roster of talented pianists and a lower level dance club–lounge downstairs, it's easy to see why Howl at the Moon has become so popular with all age groups.
Upstairs boasts a corner stage complete with two pianos, guitars, and a drum set. During our Thursday night visit, there was even a flutist among the musicians. The performers play anything from classic oldies to today's top-40 hits. Bar-goers can request songs by using the slips found on every table. Audience participation is strongly encouraged.
The night we were there, the pianists-singers played an eclectic mix of tunes, ranging from Like a Virgin by Madonna to In the Club by 50 Cent. They also performed songs by the Red Hot Chili Peppers, the Plain White T's, Queen, Mumford and Sons, Outkast, the Jackson 5, Miley Cyrus, TLC, and more. These are pianists expert at putting on a show—energetically tickling the ivories and bouncing their feet, all the while singing for all they're worth.
The upstairs space affords a good-sized open area by the stage for dancing. For those who aren't that brave, there is a large island bar with high stools and eight flat-screen TVs on top to watch sports.
Howl at the Moon has an extensive drinks menu. In addition to signature cocktails like Honey Lemonade (bourbon, honey, tuaca, lemon-lime soda, and sour mix) and Tropic Thunder (tequila, melon liqueur, pineapple juice, and orange juice), the bar offers more than a dozen beers, jello shots, and bombs. It serves a selection of appetizers (the jumbo buffalo wings are very popular), salads, sandwiches, and pizzas as well. We shared a delicious plate of chicken fingers ($8) with honey mustard dipping sauce. High tables near the stage give patrons an up-close view of the performers while they eat and imbibe. If you prefer people-watching, there are also tables under the bar's very large windows, perfect for looking out towards the bustling Financial District.
A popular location to hang out after work, Howl at the Moon is open seven days a week. Given its location, it's not surprising that it's become a popular weeknight destination for nearby office workers after work. On weekends, however, the piano bar is known for its lively parties (bachelorette events a specialty) and big crowds. If you're interested in bringing a crowd to Howl at the Moon, you can enter to win a Reverse Happy Hour Party on the bar's website or its Facebook and Twitter pages. Selected winners can invite up to 100 guests for a night of free admission (with line privileges—no waiting) and other benefits inside. In addition, Thursday nights are college nights, which means anyone with a valid college ID gets in free to the upper and lower levels.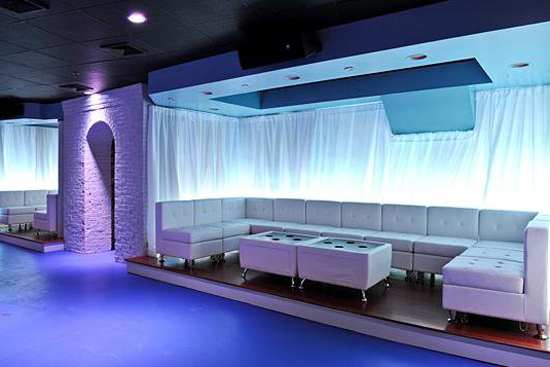 If you prefer a more traditional club atmosphere, venture to the lower level Down Ultra Lounge, which features a large dance floor, comfortable couches, and another bar. The music here is provided by DJs rather than live musicians, and the venue is open Thursday, Friday, and Saturday nights only.
Howl at the Moon, 184 High St., in Boston's Financial District, is a 10-minute walk from the Government Center T station. Hours: Monday through Friday, 4 p.m. to 2 a.m.; Saturday, 5 p.m. to 2 a.m.; Sunday, 7 p.m. to 2 a.m. Hours for Down Ultra Lounge are 9 p.m. to 2 a.m. Thursday through Saturday. You must be 21 or older to enter. There is no cover charge Sunday to Wednesday. On Thursday, there is a cover charge of $5 beginning at 9 p.m. (if you don't have a valid college ID) and on Friday and Saturday, there is a cover charge of $10 beginning at 6 p.m. Howl at the Moon and Down Ultra Lounge take all major credit cards.
This is part of a series featuring Boston nightlife venues of interest to the BU community. If you have any suggestions for places we should feature, leave them in the comments section below.
This article was originally published on October 18, 2012.
Andreia DeVries can be reached at adevries@bu.edu; follow her on Twitter at @andreia_dev.