Lunch (or Breakfast), Anyone?
Kendall Square's Friendly Toast
Who doesn't love a good breakfast joint? The food is filling, delicious, and usually cheap, the perfect antidote to a late night out. The Boston area offers a number of restaurants serving up innovative breakfast fare, one of the best being the Friendly Toast in Cambridge's Kendall Square.
The restaurant makes almost everything they serve from scratch, guaranteeing freshness. Pastries and breads (more about those in a minute) are made on the premises. Hankering for breakfast later in the day? No worries. Friendly Toast serves breakfast all day and night, in addition to sandwiches, burgers, and a full bar.
The first Friendly Toast opened in Portsmouth, N.H., 20 years ago. The Kendall Square location was added in 2009. Both have the same menu and have been featured on Good Morning America, and in Esquire magazine. The Cambridge Friendly Toast was named Best Breakfast in Boston magazine's 2009 Best of Boston awards.
The first thing you notice as you arrive at the Kendall Square eatery is the kitschy, larger-than-life 1950s decor. The giant burger and outsized cow head are hard to miss. Ditto the life-size Barbie doll standing guard near the hostess station. Old advertisements for Levi's, Shell gasoline, and Van Heusen shirts line the walls, and unique retro lamps adorn vintage laminate tabletops. You'll probably find yourself taking a walk to the bathroom just to check out the decor.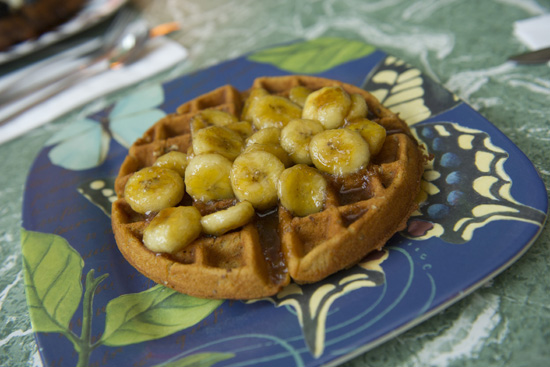 But what stands out most at Friendly Toast isn't the interior decorating. It's the restaurant's vast, inventive menu. Here you'll find combinations of ingredients you won't see at a typical diner, and the portions are enormous. Craving something sweet for breakfast? Try the Hansel & Gretel Waffles ($9), gingerbread waffles topped with pomegranate molasses and whipped cream. A heartier, hotter option is the Mexican Mashed Meal ($10.25)—spicy mashed potatoes topped with chorizo and two fried eggs, served with chipotle sauce and homemade toast. Vegetarians will find something to ooh about with Kate's Tofu Scramble ($10.75), tofu served with vegetarian sausage, mushrooms, corn, feta cheese, provolone cheese, and cilantro. Pancakes can be made gluten-free, and vegetarian bacon can be substituted for the asking.
We had a yen for French toast ($5 for one piece, $7.50 for two, and $9 for three) the morning we stopped by. You can't go wrong with this dish because the restaurant makes its own bread. Diners can select from among several homemade breads: oatmeal, whole wheat, anadama (bread with molasses and cornmeal), cayenne-cheddar, or cinnamon-raisin. The bread is similar in texture to Wonder Bread, but a whole lot tastier. We played it safe with whole wheat. The French toast was crispy on the outside, soft on the inside, accompanied by thick maple syrup and whipped cream.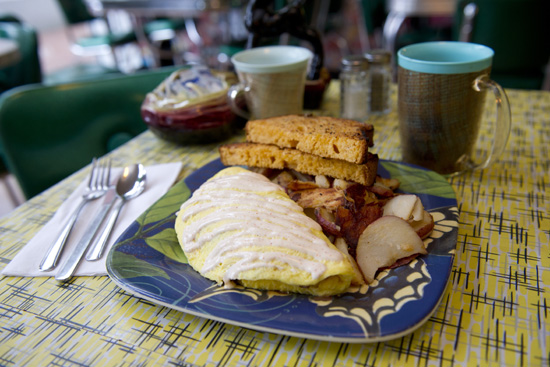 Wanting to sample the eggs, we ordered the Basic Breakfast ($7): two eggs "any which way," home fries made with red bliss potatoes, caramelized onions, and spices, and homemade toast. We chose scrambled eggs, which were standard, but the home fries were a standout, spicier than usual and complemented by the caramelized onions.
If breakfast food isn't your thing, Friendly Toast also serves sandwiches, salads, and burgers. We didn't try any of the sandwiches, but the Damned-Good Grilled Cheese ($10.25) (served with an olive-garlic spread) and the Le Petit Monstre ($12.25) (chicken burrito made with marinated breast meat, Tabasco cream cheese, roasted corn salsa, green olives, lettuce, and plum tomatoes) looked especially appetizing. The restaurant offers coffee, hot and iced (we rate it a C), tea, juices, frappes, and a full cocktail menu.
The biggest drawback is the restaurant's popularity. A 30- to 60-minute wait is normal on weekends from 9:30 a.m. to 3 p.m., says manager Madeleine Suter (COM'10). But there was no line during our recent weekday visit.
"We get a lot of MIT kids because we're in Kendall Square, but we're only about a 20-minute walk away from BU," says Suter. "I think a lot of COM film kids know about us because we're near the Kendall Square Cinema. The place is a lot of fun, it's a different crowd than you'd see over at BU, and the food is great."
The Friendly Toast, One Hampshire St., Cambridge, 617-621-1200, is open Sunday through Tuesday, 8 a.m. to 10 p.m., Wednesday and Thursday, 8 a.m. to 11 p.m., and Friday and Saturday, 8 a.m. to 1 a.m. Take-out is available except on weekend mornings. The restaurant takes all major credit cards. Take the MBTA Red Line to the Kendall Square/MIT stop. The restaurant is less than a 10-minute walk. Check out the menu here.
This is part of a weekly series featuring Boston lunch spots of interest to the BU community. If you have any suggestions for places we should feature, leave them in the comments section below. Check out our list of lunchtime tips on Foursquare.
This Series
Also in
April 18, 2018

April 11, 2018

March 29, 2018