Lunch, Anyone? Orinoco
A Latin kitchen inspired by family-run Venezuelan eateries
During the academic year, we reviewed lunch places near the Charles River Campus. As medical and dental school students return, we thought we'd focus on restaurants around the Medical Campus. Over the next four weeks, we'll review eateries popular with students, faculty, and staff.
Walk into Orinoco and you'll immediately feel at ease. With its colorful curtains, warmly painted walls, and friendly staff, this casual Venezuelan restaurant gives the feel of dining in someone's home, not a restaurant.
With a menu that includes old-family recipes that blend dishes indigenous to the Andes and the Caribbean, Orinoco's dishes are reasonably priced and generously sized. Inspired by taguaritas—the small, rustic roadside eateries found everywhere in Venezuela, the restaurant serves lunch, dinner, and Sunday brunch.
We stopped by for lunch on a recent weekday with several friends, ordering and sharing plates from several menu sections in order to sample as much as possible.
We started with an antojito, or "little craving": four warm and crispy maracuchitos($5), cheese wrapped in sweet plantains. The thick, white cheese (queso paisa) imported from Venezuela was definitely an excellent start to the meal. In addition to the maracuchitos, as a side dish we ordered plain and cheese-less tajadas ($4.25), fried sweet plaintains in a bowl. They were delicious.
We then tried Orinoco's empanadas, traditional Latin American turnover patties. There are several to choose from: we ordered the empanada mechada ($8.50), Venezuelan-imported shredded beef in a corn flour empanada. This dish far exceeded our expectations. It arrived with four empanadas (crisp on the outside, moist and flavorful on the inside) served beautifully around a fresh salad of greens tossed with feta cheese, apple, nuts, and sherry vinaigrette. It's not often that a salad is just as delicious as the feature it complements, but this one was.
If you are interested in a salad for your main course, Orinoco serves larger ensaladas. We sampled the Orinoco ensalada ($8.75), made with grilled chicken breast, spring mix greens, jicama, green grapes, feta cheese, and toasted almonds, with a sherry vinaigrette. It was fresh and clean, the grapes and chicken providing a wonderful combination of sweet and savory tastes. The restaurant also offers two other salad options: the Palmito ensalada ($8.50), which includes bacon-wrapped dates, and the Remolacha con cabra ensalada ($7.75), roasted beets, fresh goat cheese, and pine nuts served over mixed greens, with sherry vinaigrette, a good option for vegetarians.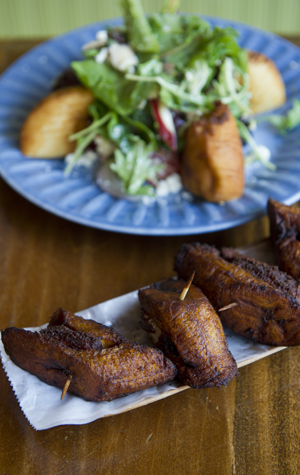 After our salad, we moved on to sandwiches. We ordered two arepas, traditional Venezuelan grilled corn pocket sandwiches, la gringa ($4.75), filled with Edam yellow cheese, and la llanera ($6.75), chicken, onions, red peppers, avocado, and a special sauce. Both were tasty but small, about the size of an English muffin. Our favorite sandwich proved to be the pepito de carne ($7), French bread stuffed with sautéed onions, grilled flank steak, red peppers, tomatoes, and a sweet red specialty sauce that provides an extra burst of flavor in every bite. Two people can easily split this large and tasty sandwich, which comes with a side of plantain chips.
Don't leave without trying one of Orinoco's two postres, or desserts (we had both). If you are a chocoholic, you'll want to order the torta fluida ($5), a molten chocolate cake made with 100 percent Venezuelan dark chocolate. This warm treat, filled with an almost liquid-like chocolate, literally melts in your mouth. If you are not in the mood for chocolate, try the equally delicious quesillo ($4.50), homemade traditional Venezuelan custard topped with caramel.
The restaurant features a selection of South American wines, beers, and tropical fruit drinks.
As if you needed another reason to eat at Orinoco, it turns out that the owner is a BU alum. Native Venezuelan Andres Branger (CAS'84) studied economics at BU and worked in corporate America for many years before opening Orinoco six years ago. As a student, Branger worked several on-campus jobs, including one in the Myles Standish dining hall. "I was always interested in starting a restaurant from my own culture," he says. "I used to bring my BU friends to Venezuela, and they really liked the arepas. We thought it would be fun to make them in Boston."
Orinoco, 477 Shawmut Ave., Boston, is open Tuesday and Wednesday, noon to 2:30 p.m. and 6 to 10 p.m., Thursday through Saturday, noon to 2:30 p.m. and 6 to 11 p.m., and Sunday, 11 a.m. to 3 p.m. for brunch; closed Monday. The restaurant accepts all major credit cards. Reservations are not accepted. Orinoco has two additional locations, at 22 Harvard St., Brookline Village, and 56 JFK St., Harvard Square, Cambridge. By public transportation, take the MBTA Green Line trolley to Hynes Convention Center, then the #1 bus to Massachusetts Ave. at Shawmut Ave. Turn right onto Shawmut Ave. and walk three blocks. Or take the BU Bus from any stop inbound to 710 Albany St. Turn right onto E Concord St. and walk about five minutes to Shawmut Ave.
This is part of a weekly series featuring Boston lunch spots of interest to the BU community. If you have any suggestions for places we should feature, leave them in the comments section below. Check out our list of lunchtime tips on Foursquare.
Andreia DeVries can be reached at adevries@bu.edu. Follow her on Twitter at @andreia_dev.
This Series
Also in
April 18, 2018

April 11, 2018

March 29, 2018