You Are What You Eat
Sargent Choice Night returns in all residence dining halls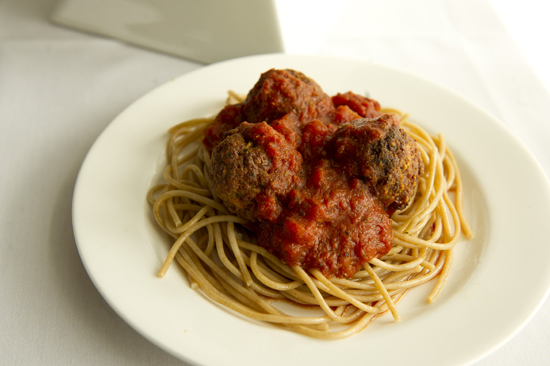 Tired of the same old dining hall food? Looking for new options? You're in luck.
Tomorrow's dinner menu across campus features new Sargent Choice recipes that promise to both satisfy your taste buds and support your health. Sargent Choice Night, as the once-a-semester event is called, is designed by Sargent College and BU Dining Services to promote healthier eating on campus through a wide variety of nutritious food options.
"We hope it opens students' eyes to the power of healthy foods," says Sarah Butler (SAR'06,'08), a registered dietitian at the Nutrition and Fitness Center. "If it's prepared well and seasoned based on your preferences, you'll never feel like you're making a sacrifice to eat healthy."
And with the meals being offered tomorrow night, it's clear that making a sacrifice is not on the menu. Students will be able to select from garlic grilled salmon, whole wheat spaghetti, shredded beef burritos, and curried red lentil, Swiss chard, and beet stew, among other dishes. There are even new desserts to choose from, such as vegan banana rice pudding, chocolate cupcakes drizzled with white chocolate, a raspberry apple crumble, and spiced orange molasses cookies.
"Most students are surprised to find that these foods are actually very good for them," says Elizabeth Jarrard (SAR'11), the Sargent Choice team's social media manager. "We work hard to create recipes that not only support your health, but taste delicious too—just try one of our cookies."
Dining Services executive chef Kim Hannon and Nutrition and Fitness Center registered dietitians Laura Judd (SAR'08) and Jennifer Culbert (SAR'09) collaborate on evaluating the current Sargent Choice recipes and choosing new ones to help complement them.
"We want to make sure the new recipes we choose will be acceptable to students, in both taste and appearance," says Culbert. "We then make sure that they meet Sargent Choice nutrition criteria and tweak them as needed."
Student feedback, which the Sargent Choice team believes is important, is included in menu development. After the last Sargent Choice Night, the team was able to better understand what students hope for at dining halls.
"We received great feedback during the fall Sargent Choice Night," says Culbert. "We learned that students want more traditional, comfort, home-style food, which is why we're offering macaroni and cheese, oven-fried chicken, spaghetti and meatballs, and the ever-comforting gumbo tonight."
Sargent Choice Night is not only an opportunity to sample delectable dishes, but also a chance to weigh in on which items become menu fixtures. All successful recipes are added to the cycle menu, which allows for increased variety—something students are always asking for, according to Butler.
"We hope that everyone will give Sargent Choice a try," says Jarrard. "We have a lot of delicious, healthy options on the menu, and we think it will be a huge success."
Sargent Choice Night is Wednesday, March 23, from to 5 to 9 p.m. in the West Campus and Warren Towers dining halls, and from 5 to 8 p.m. in the Towers, Shelton Hall, and Myles Standish dining halls. On Twitter? Tweet what you eat during the event @sargentchoice.
"Like" Sargent Choice on Facebook to keep up-to-date on what the team is up to, read blog postings featuring recipes and tips for healthy eating, and give feedback on what you would like to see more of on the Sargent Choice menu and on the Sargent Choice blog.
Tom Vellner can be reached at tvellner@bu.edu.