The "Program Changer"
All-time BU soccer scorer honored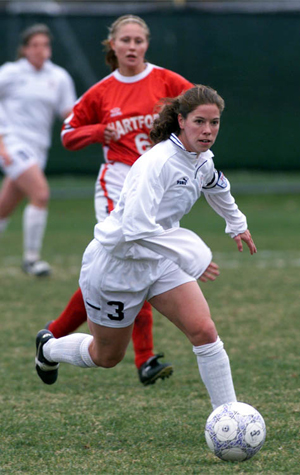 Star forward Deidre Enos Lovett scored 51 goals during her BU soccer career, a record unsurpassed in either the men's or the women's soccer programs. She was named an All-American in 2000, the University's first women's soccer player so honored, and was BU's first athlete to play in the Women's United Soccer Association.
Over the past decade the BU women's soccer team has compiled a remarkable list of accomplishments: eight America East championships, nine NCAA postseason tournament appearances, and five players chosen as All-Americans. Head coach Nancy Feldman credits one player with starting that winning tradition: Lovett (SAR'00.)
"Deidre is a very important reason why our program is what it is today," says Feldman, who has led the team since its inception 16 years ago. "The significance of her impact in the program is special, even 11 years after she graduated. She was our first All-American and our first player to play in the WUSA."
In recognition of Lovett's contributions, she will be honored this Sunday, September 18, in a ceremony before the Terriers 2 p.m. contest against Yale at Nickerson Field. In a first for the women's soccer program, her jersey—number three—will be retired.
Lovett acknowledges being shocked when she heard the news. "I never thought this was something that would happen. I'm honored," she says. "It means that the program is experiencing another first. I look forward to seeing more numbers retired in the coming years."
"On the field, Deidre was always best in the biggest games," Feldman recalls. "Her junior year, we beat Northwestern, a longtime powerhouse in women's soccer, on their field. She had two goals, including the overtime winner. She rose to the occasion in that game. She always wanted to make a lasting impression."
In another big game, Lovett's senior year, the Terriers took on the University of Hartford, which had a lock on women's soccer in the America East Conference. "Hartford was the perennial champion," Feldman says. "In 2000, we beat them 3-0 near the end of the regular season. That was a team effort, and Deidre had the third goal in that game."
That win was the first time a conference opponent had defeated Hartford in 39 games. The Terrier victory was the program's biggest win ever, and signaled the beginning of BU's ascendance in America East women's soccer.
Facing Hartford again in the America East championship game a few weeks later, Lovett scored a goal that was a "program changer," according to Feldman. "She outran the entire team on a ball, and she was very wide coming into the goal. But she scored. It was a beautiful goal. It was a hard angle to score from, but she did it against Hartford. It symbolized just how far we had come since the program started in 1995."
Lovett says that game was the highlight of her soccer career. "It was so exciting. It was the first time the team had made it to the NCAAs. I couldn't believe that we beat Hartford twice in a matter of weeks, because they were such a powerhouse."
But Lovett is being honored tonight not just for her athletic prowess, but for the values she brought to the game. "Despite her success, she's always been humble. While she was at BU, she was very well liked, very regular," says Feldman. "It is a characteristic we want our program to have. We want to be confident, but we want to be humble. What happens on the field doesn't define us, and that is the way Deidre carried herself." Feldman says that attitude has been passed down to each succeeding freshman class.
After graduation, Lovett played for the Philadelphia Charge of the WUSA, the first incarnation of women's professional soccer in the United States. Referred to by the Philadelphia soccer community as "the speedster off the bench," Lovett was invited to a National Team Training Camp in 2001. She wrapped up her playing career in 2002. She earned a second bachelor's degree—in nursing—at UMass and today works on the cardiology floor at Boston's Beth Israel Hospital.
When she takes the field Sunday afternoon, she'll be accompanied by her husband, Patrick, her parents, Jean and Bill, and her children, Molly, 5, Mary Kate, 3, Patrick, Jr., 2, and Maeve, 2 months. Lovett says she can't wait for her children to begin playing sports and hopes that Sunday's event will give them a glimpse of how exciting collegiate sports can be. "My ultimate goal," she says, "is to see my number unretired. I hope that one of my daughters will play for BU and wear number three again."
Deidre Enos Lovett (SAR'00) will be honored before the Terrier women's soccer game against Yale University, Sunday, September 18, at 2 p.m. at Nickerson Field. Tickets are $5 for the general public and $2 for faculty, staff, and students and are available at the gate.
Kat Hasenauer Cornetta can be reached at katcorn@bu.edu.