New England String Quartet Will Perform at BU
April 13 benefit concert to raise money for Japanese tsunami victims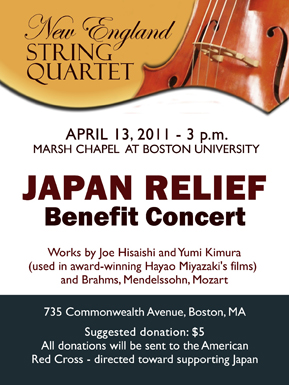 The catastrophic earthquake and subsequent tsunami that devastated parts of Japan on March 11 has so far claimed the lives of nearly 20,000 and left nearly half a million people homeless. The estimated cost of rebuilding is expected to top $300 billion.
On Wednesday, April 13, the New England String Quartet (NESQ) will perform a Japan Relief Benefit Concert at Marsh Chapel from 3 to 4 p.m. All of the donations raised will be sent to the American Red Cross to support its relief efforts in Japan. The quartet will perform works by Brahms, Mendelssohn, and Mozart, as well as music by Japanese composers Yumi Kimura and Joe Hisaishi.
Formed in Boston in 2007, NESQ performs throughout New England. The professional ensemble, violinists Julia Okrusko and Konstantin Rybakov, violist Lilit Muradyan, and cellist Ming-Hui Lin, is strongly committed to the local community, especially in the realm of music education. NESQ participates in, and performs for, community outreach projects, schools, and nonprofit organizations and offers open chamber evenings, sight-reading sessions, and music lessons.
The quartet is surprisingly diverse; each member is foreign-born and has performed around the world. And each has a strong tie to BU. Taiwan native Lin (CFA'12) is currently a PhD candidate in the College of Fine Arts School of Music and also a teaching assistant and sectional coach for the BU All-Campus Orchestra. Originally from Armenia, Muradyan (CFA'12) is enrolled in a doctoral program as well. Okrusko (CFA'09), who was born in Lithuania, earned a master's degree and a performance diploma at CFA. A native of Russia, Rybakov (CFA'11) is currently pursuing a performance diploma at CFA.
Lin says that quartet members, worried about colleagues and friends in Japan, "started looking for a way to bring our friends, supporters, and sponsors together for an event that could not only support the Japanese funds at the American Red Cross, but also raise academic interest and inspire other young musicians and artists to collaborate in supporting Japan."
The Japan Relief Benefit Concert will be held Wednesday, April 13, at Marsh Chapel, 735 Commonwealth Ave., from 3 to 4 p.m. The event is open to the public and there is a suggested donation of $5. Learn more about the New England String Quartet here.
Erin Thibeau can be reached at ethibeau@bu.edu.