Lunch, Anyone? In House Café
A taste of Syria in Allston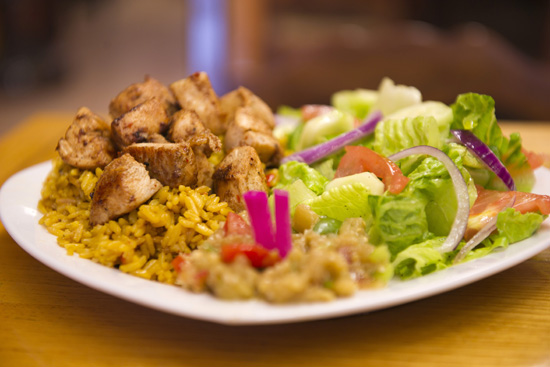 In the thriving global food court that is Allston, In House Café serves up a taste of Syria. The food is fragrant, fresh, and hearty. The atmosphere can be summed up in the Arabic phrase ahlan wa sahlan—"You are welcome."
The café, its unassuming storefront a brief stroll from the Green Line T stop at Comm Ave and Harvard Ave, is a difficult place to leave. Owner Ahmed Dairy, who also has a café in his native Aleppo, Syria, presides over the place with such generosity and good humor that even a first-timer is made to feel like the regular customer he or she is bound to become. In true Middle Eastern fashion, Dairy is likely to present you with a complimentary plate of kibbeh (a patty of bulgur and ground lamb) or falafel imported from Syria. He might urge a strawberry smoothie sample on you, or a sliver of honey-soaked baklava. Dairy and his chef/food manager, Mazen Alaama, of Damascus, are happy to indulge visitors' curiosity about their homeland, its treasures and struggles.
A recent expansion doubled the size of In House Café. Although patrons can sit on whichever side they like, the place is now arranged as half breakfast-lunch-dinner restaurant, half espresso bar, offering homemade pastries, smoothies, a wide assortment of house-brewed loose teas, a juice bar, and ecstasy-inducing ice cream (try the Dirty Chocolate) from the Berkshires-based SoCo Creamery. A Yelp reviewer and In House regular insists that "no coffee in the North End is as good as Ahmed's macchiato."
The café's spare décor is Queen Anne meets IKEA, an eclectic mix of chintz and contemporary. The walls bear the work of local artists, much of it for sale, and a wide étagère is arranged with teapots and samovars. For larger or private parties, there's a curtained-off back room with a loft bedecked with carpets, conjuring images of Arabian Nights, and a human-sized King Tut sarcophagus inexplicably stationed at the entrance.
On one visit, just after dusk, we found Dairy, Alaama, and friends seated in the back room in their stocking feet, breaking the Ramadan fast. They urged us to make ourselves comfortable and soon emerged to share a complimentary iftar platter heaped with velvety humus, pickled beet salad, and kibbeh. We stopped in for lunch several weeks later to share a plate of chicken shawarma, a mix of vegetables with tender chicken ($4.99) that had been marinated for a day in yogurt, vinegar, and garlic. The stew was served with basmati rice and a tomato and lettuce salad laced with parsley and judiciously dressed in a tangy pomegranate sauce.
Dairy boasts, rightfully, of his falafel ($2.99), lightly fried and served in a crispy pressed wrap with fresh mint, yogurt, and tahini. A taste of kibbeh on the house had us clamoring for more, so we ordered a plate ($4.99), redolent with an imported Syrian blend of allspice, cinnamon, cumin, and other spices. The In House cook, Jad Al Ama, a Bunker Hill Community College student who is from Damascus, graciously walked us through the ingredients of each dish.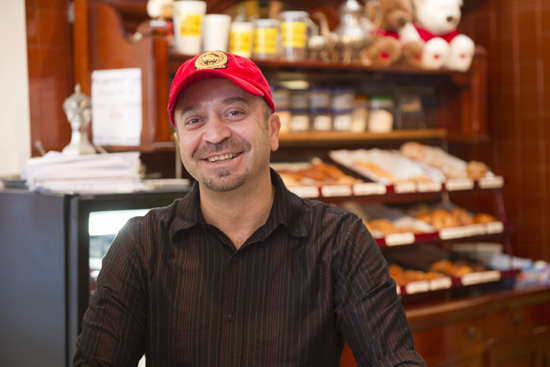 Dairy has recently revamped the In House menu to include a creative assortment of crepes, waffles, and omelets and has expanded offerings from the grill; he says customers can expect the new menu by November 1. Among the other new offerings is a mixed grill platter, with chicken, lamb, or beef, a steal at $7.99. The dish comes with rice, salad, and a choice of hummus or the classic Middle Eastern eggplant dip, baba ghanouj.
Other In House Middle Eastern specialties include fata, a fried eggplant and potato dish ($5.49), lahmajeen, a Turkish-style pizza ($4.99), chicken shish taouk, marinated chicken with garlic cream ($4.99), fattoush, a pita bread salad ($4.99), and the standard Syrian comfort food, fool moudamas, a soupy dip made of cooked and mashed fava beans, lemon, red pepper, garlic, cumin, and parsley ($4.99). (This is the only menu entry with a bit of editorializing: "You're a fool if you don't eat fool.")
In House offers free wireless, and student customers are not discouraged from lingering with a drink while studying.
In House Café, 194 Harvard Ave. (between Comm Ave and Glenville Avenue), Allston, is open daily from 7 a.m. to 11 p.m. Phone: 617-686-3350. All major credit cards are accepted. To get there, take the Green Line B trolley outbound to the Harvard Avenue stop.
This is part of a weekly series featuring Boston lunch spots of interest to the BU community. If you have any suggestions for places we should feature, leave them in the comments section below. Check out our list of lunchtime tips on Foursquare.
This Series
Also in
April 18, 2018

April 11, 2018

March 29, 2018