ENG Alum's App Finds Kid-Friendly Places
Help for mobile moms (and dads)
When Jill Seman and her husband and two-year-old son moved from San Jose to San Francisco in 2007, Seman wondered what kid-friendly places her new city offered. She tried using the online directory Yelp, finding little info. Then she looked at various iPhone apps for moms, but found none focused on locales appealing to a child. As she searched for such places on her own and shared them with other moms, she came up with an idea for a GPS-based iPhone app that would map out parks, playgrounds, museums, and other kid-friendly spots within a specified distance. By tapping a specific spot, parents could upload addresses, directions, phone numbers, active URLs, photos, and reviews.
"I saw other apps for moms and thought, I'm familiar with this technology, so I decided to create an app for myself," recalls Seman (ENG'89). "I wrote and tested it while my kids were napping, a few months after my daughter was born."
On a lark, she also put the new, free app, MomMaps, on iTunes, where—to her amazement—it took off. Since then, she has added a website that parents can use to plan kid-friendly outings and expanded the app to cover more than 25 different metropolitan areas and 25,000 destinations. Entries, which range from restaurants with kids' menus and high chairs to indoor play spaces, include ratings on a scale of one to five balloons.
"I get contributions daily from within the United States and all over the world," Seman says. "It's been a lot of fun to watch this start as a hobby and expand to where it is now." Recently listed as one of Working Mother magazine's 20 best iPhone apps, MomMaps is currently the only app for parents to share kid-friendly spots and review and rate them.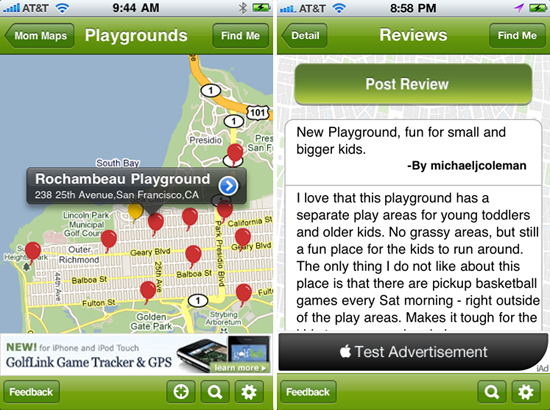 At present, the app has more than 10,000 users, one of whom, Kelly Tirman, of San Francisco, writes a blog on motherhood. "As a new mom, MomMaps provided me with a source of sanity," says Tirman. "Not only did it help me find great places on the go, but it motivated me to get out of the house and explore the city with my daughter."
To create MomMaps, Seman took an online course on how to program an iPhone, purchased a $99 developer's license from Apple Corporation, and used the software development kit that comes with the iPhone. She expects that the app, which generates revenue through ads posted on the iPhone and the website, will become profitable as she slowly builds out the platform.
While she stresses that you don't need software development experience to build an iPhone app, Seman says that her career prepared her well for the task. Since graduating from the College of Engineering with a degree in electrical engineering, she's had more than 15 years of engineering and management experience with multimedia processing companies such as Nvidia Corporation. There, she helped the company evolve from a start-up to a multinational corporation that produces graphics chipsets for top-selling PC companies such as Dell, HP, and Intel, as well as for popular desktop and mobile platforms like Xbox and PlayStation.
Seman also credits ENG for her perseverance and command of engineering fundamentals. "At BU I learned not only the basics of how semiconductors work and how to program," she says, "but also how to keep working on a problem until I figured it out."
She recently upgraded MomMaps by adding the capability of sharing favorite locales in the app database with others by email and Facebook. She is also working to make the app available on BlackBerry and Android networks and to enable users to share short video clips.
In June, Seman was chosen as a White House Champion of Change, a program that honors those who are "causing a data revolution by developing applications using open government data to create unique benefits to our citizens and communities."
"I'm pleasantly surprised at how people have embraced MomMaps as a sharing platform," Seman says. "It's evolved into a forum for parents to share their favorite kid-friendly spots as well as their concerns about problematic destinations."
Mark Dwortzan can be reached at dwortzan@bu.edu.
A version of this article originally appeared in the spring 2011 issue of Engineer.