BU's Long Distance Learners
Online program wins plaudits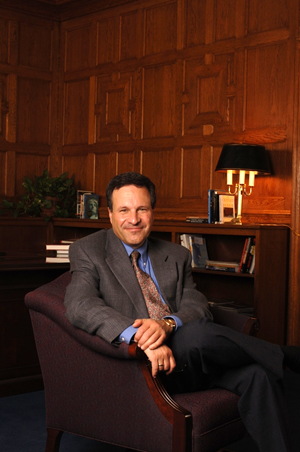 Craving a BU education after learning about its academic reputation and strong interdisciplinary curriculum, Hillary Blazer-Doyle faced a hurdle: she was living in Singapore, where her husband's insurance company job had posted him. But Blazer-Doyle, a voiceover actress, was determined not to let the 9,400 miles that separated her from campus stand in the way. She began studying online through BU's Distance Education program, one of 2,500 "distance learners" enrolled at BU.
On the program's accelerated schedule, Blazer-Doyle (MET'10) studied from her laptop (and occasionally in her pajamas) for two and a half years while nation-hopping for her husband's or her own business—Singapore, Taiwan, Thailand, and Indonesia, and on visits home to the United States. But when it came time for graduation last May, she was determined to do one thing in person, not online: sit with her class on Nickerson Field and pick up her bachelor's degree in liberal studies. Blazer-Doyle says the experience was so positive that she wants to get involved with BU's alumni association in London, where she now lives. And she plans graduate studies somewhere: "I fell in love with education through this program," she says.
Similar satisfaction is expressed by 92 percent of BU's distance learners, according to Jay Halfond, dean of Metropolitan College and Extended Education. That satisfaction has won BU a nod from a nonprofit that promotes online education: the Sloan Consortium has given the University its Award for Excellence in Institution-wide Online Education, which will be presented November 4 in Orlando, Fla.
For BU, the award spotlights the University's role in what the Chicago Tribune has dubbed "a white-hot education trend." No longer Jetson-age exotica, online education is mushrooming, from public grade schools to private universities.
In August the Boston Globe cited a report putting the number of higher education students taking at least one online course at 4.6 million in fall 2008, 17 percent more than the previous year.
The Globe reported that the for-profit University of Phoenix, which specializes in online education, has the largest enrollment of any North American university. Yet traditional colleges have embraced the field so rapidly that they offer the majority of courses-by-computer, according to the newspaper. BU, which created its first online program in 2001, now offers 35-plus programs (a list can be found here) tutoring students in 43 nations and all 50 states. Most of the University's distance learners are enrolled in MET or the College of Fine Arts.
Launching instruction into cyberspace "allows us to expand the educational reach of Boston University," says Nancy Coleman, BU's director of distance education. Online students tend to be working professionals in their 30s doing graduate study part-time, Halfond says. (Declining to give her precise age, Blazer-Doyle says it's a little north of 34.) They average 20 hours per week on course work and 10 weekly posted comments to course discussions. "They would never get this airtime or find this time to work independently in a conventional course," says Halfond.
Online students pay the same tuition as on-campus students, as well as a $50-per-credit technology fee, Coleman says. She also says she's discussing new online degrees with several of BU's colleges. That's not to say that teaching via computer monitor doesn't pose challenges.
"Online courses need to be fully designed before they even begin," says Halfond. "Faculty put in hundreds of hours before the semester starts, working closely with an instructional designer to author a course that is pristine, impressive, and fully developed."
For students who might miss traditional faculty face-time, the University provides a brief, preenrollment questionnaire, online, of course, to help them assess whether distance learning is right for them.
For her part, Blazer-Doyle says she "loved the unorthodox nature of online learning. It could all be done in my pajamas! There was no rushing to a class or perhaps finding a parking spot." That doesn't mean her courses were a breeze. "This program is not easy. People have the idea that an online degree is not a real degree. Perhaps when it is given from other schools, but here we do the same amount of work for each class that every student on campus does, just at an accelerated rate."
The Sloan Consortium has handed out awards since 2001, and although the competition was stiff this year, "the selection committee felt that Boston University's online program was exemplary," committee chairman Burks Oakley wrote in his award notification to BU President Robert A. Brown and Provost David Campbell.
Rich Barlow can be reached at barlowr@bu.edu.