Terriers Hold AE Streak Over UMBC
84-57 win matches BU program record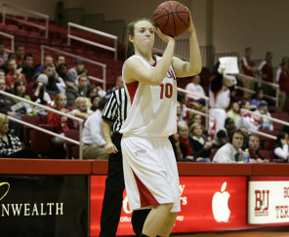 The women's basketball Terriers extended their winning streak to eight games, their longest in five seasons — and matched the program record, set in the 1978–79 season — with a 84-57 win over the University of Maryland Baltimore County Retrievers January 28 at the Roof at the Case Gym. BU improved to 13-6 on the season, with a perfect 7-0 record in the America East conference.
The Terriers' strong senior class led the team in scoring last night, with Jesyka Burks-Wiley (CAS'09) topping out at 21 points, Amarachi Umez-Eronini (CAS'09) at 17, and Christine Kinneary (CAS'09) at 13. The Retrievers' Carlee Cassidy — whose 22.2 points-per-game average is sixth in the country — posted a game-high 33 points. But the Terriers grabbed the lead 20 seconds in on a jumper by Burks-Wiley and relinquished it only once in the first half, ending the period 28 points up. In the second half, UMBC's Cassidy opened the scoring with a layup, but Aly Hinton (CAS'10) followed with a layup, and the Retrievers never led.
Kinneary is inching closer to breaking the 28-year-old BU record for career assists set by Debbie Miller ('81), who dished out 477 over a four-year period. The senior point guard needs just five more to accomplish the feat. Kristi Dini (SAR'09) is also on pace to reset a school mark in her specialty — three-point shooting. The Putnam Valley, N.Y., native has hit 58 this season and needs just 15 more to break the single-season mark. She is only 16 away from becoming the all-time leader, a record currently held by Katie Terhune ('04), who hit 172 over her career.
The new year has been good to the Terriers — they have gone unbeaten in the month of January. They have also had their best start in conference play in 19 years. In the 1989–90 season, the Terriers opened with a 5-0 start before falling to Vermont in the sixth game. BU's best league start was in the 1987–88 season, when it went 9-0 before the streak ended.
Tickets for Terrier women's basketball are available in advance of agame at the Agganis Arena ticket office, 925 Commonwealth Ave.,or online.On game days, the Walter Brown ticket office in the Case Gymnasium, 285 BabcockSt., opens one hour prior to a game. Discounted tickets for facultyand staff are available through the ticket office orby calling 617-353-GOBU. For more information, visit AgganisArena.com.