Terriers Defeat Stony Brook 72-59
Women's b-ball opens conference play with victory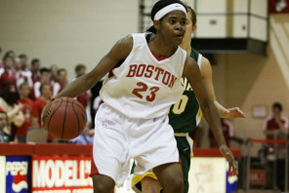 The Boston University women's basketball team defeated the Stony Brook Seawolves 72-59 at Stony Brook on Wednesday night after a decisive victory at UMass last week. The Terriers, led by senior Jesyka Burks-Wiley's 18 points and three rebounds, are now 7-6 on the season and 1-0 in the America East conference.
Classmates Kristi Dini, Christine Kinneary, and Amarachi Umez-Eronini backed up Burks-Wiley, scoring 14, 12, and 11 points respectively. BU's senior class continues to lead the way offensively as the four members of the group currently hold the top four spots on the squad in scoring. Burks-Wiley is averaging 16.3 points per game – good for second in America East scoring – and she is followed by Dini (12.8 ppg), Kinneary (11.7 ppg) and Umez-Eronini (9.7 ppg). The seniors need 12 more wins this season to become the all-time winningest class in program history. They currently own a .567 winning percentage over four seasons with a 59-45 record.
Burks-Wiley, who has reached double figures in 10-of-12 games in 2008-09, is 63 points away from reaching the 1,000-point plateau, while Kinneary needs just 37 handouts to break the program's all-time assist record. Dini, who hit two three-pointers last night, currently leads the conference in treys and is ranked fourth in the nation in 3-pointers per game (3.2).
BU will host Vermont on Saturday (Jan. 10) at Case Gym. Tip-off is set for 1 p.m.
Tickets for Terrier women's basketball are available in advance of the game at the Agganis Arena Ticket Office at 925 Commonwealth Avenue or online. On game days, the Walter Brown Ticket Office, located at 285 Babcock Street in the Case Gymnasium, opens one hour prior to the game. Faculty and Staff discounted tickets are available through the Ticket Office or by calling 617-353-GOBU. For more information visit AgganisArena.com.