Campus Eats: Grasshopper
Clever flavors make vegan spot appeal to all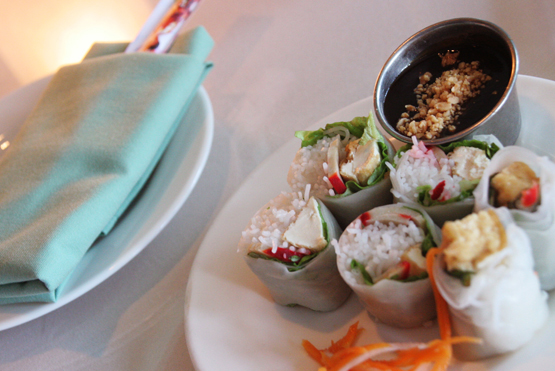 As a vegetarian, finding flavorful food in a meat-lovers' world can be a challenge. So it was a delight to dine at Grasshopper, a vegan restaurant where "the animals live to tell it all," according to the menu. I could order anything without worrying about the broths, oils, or utensils used in preparing it — a rare treat. But don't worry, omnivores: Grasshopper specializes in preparing Asian fusion-style dishes made to taste and look like chicken, beef, and seafood, so you can humor your vegetarian friends without feeling deprived.
I started with the Vermicelli Hand Rolls ($4), made of tofu, gluten vermicelli, and mint, wrapped in rice paper. This was a hit: healthy and light, with flavors enhanced by the accompanying sweet, tangy, and rich Hoisin sauce. Curiosity motivated me to try the Vietnamese Style Vegi-Pizza ($7), too. It's a cross between a Spanish omelet and a Japanese pancake, with crispy, pizza crust–like edges and a rice batter stuffed with vegetables, tofu, and assorted seitan. It lacks spices, though, and the flavor borders on bland. The accompanying sauce adds needed flavor and moisture to the dish.
For my entrée, I ordered the steamed vegetables with tofu and buckwheat noodles ($9.50). The ginger flavor in the sauce pops, and the broccoli was cooked perfectly — soft yet crunchy, and still bright green. The buckwheat noodles, however, were cooked too much for my liking; I prefer a harder, al dente texture. But I did appreciate that the dish wasn't greasy, unlike many Chinese stir-fry dishes I have eaten.
After dinner, I was ready to satisfy my sweet tooth. Grasshopper offers six dessert options: vegan blueberry cheesecake, vegan strawberry cheesecake, chocolate cake, vanilla white cake, strawberry cake, and ginger cake. But since I enjoy the occasional piña colada, I decided to try it with pineapple and coconut flavors. Frothy, smooth, sweet, creamy, and delicious, the bean shake more than exceeded my expectations. I was glad that Grasshopper was out of vegan cheesecake that night.
The prices at Grasshopper are very reasonable, and the portions are plentiful. The leftovers provided me with enough food for two additional meals. And on top of that, the service was quick and helpful.
After dining at Grasshopper, if you're interested in trying another vegan restaurant, you don't have to go far. T. J. Scallywaggle's Vegan House of Pizza and Subs is just two doors down.
Grasshopper is located at One North Beacon St., Allston, near the #57 and #66 bus lines and the Harvard T stop on the B Line. For a menu, click here.
Click here to check out more Campus Eats, or visit the eat@bu facebook page.
Robin Berghaus can be reached at berghaus@bu.edu.
This Series
Also in
April 18, 2018

April 11, 2018

March 29, 2018