Rule Number One: Open Your Door
Advice for freshmen from BU seniors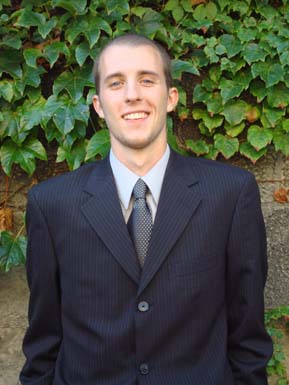 By the end of September, most people have settled into a routine: classes, work, the gym, the dining hall, the library, and maybe even a social life. Many first-year students, however, have a tougher transition: their new freedom, combined with their new responsibilities, can be overwhelming.
"The most common issues that I see from freshmen have to deal with moving away from home and living on their own for the first time," says Mike Del Duke (SMG'09), a resident assistant in Warren Towers. "That includes missing friends from high school, not knowing how to properly do laundry, and living with a stranger for the first time."
While there's no quick fix for getting comfortable with a new college life, there are a few small steps that freshmen, or students of any age, can take to ease the transition.
We asked four resident assistants for their best advice on how to cope with college life during the first few weeks of school. Here's what they had to say:
1) Open your door.
The first, and most important, rule of freshman year: leave your door open when you're at home in your room. It's a low-impact, easy way to make new friends. "Say hello to people who walk by," says Shawn Fitzpatrick (ENG'09), an RA in Towers. "That first awkward conversation can lead to many great friendships."
"Other people will know that you're welcoming anything, from short greetings to full conversations," adds Jon Suen (SAR'09), a Warren Towers RA. "If you're the type to get anxious walking into a room full of new people, this method is great because it invites people to come to you."
Don't forget about study lounges and other locations in your building, either — your new friends don't have to come from right next door.
2) You're in a new place. Try something new.
So you were editor of the yearbook, captain of the basketball team, and president of Model U.N. in high school. That doesn't mean you have to be the same person here. "My best advice is to be willing to step out and try new things," says Towers RA Leah Miller (SAR'09,'11). "You have to be very proactive your first year to go around and meet people on your floor and in your building, as well as take the time to investigate the many clubs and programs on campus to find something you can connect with and be a part of."
That's not to say you have to pull a complete 180: "If you had something you really loved to do in high school — play an instrument, sing, act, dance — you should definitely continue that at BU," Miller says. "Not only will it expand your community of friends, but it will also help you to relax and have some fun."
3) Don't throw away your free time.
"I see a lot of freshmen get too overtaken by the amount of free time they have, compared to the standard hours most students experienced in high school," says Fitzpatrick. The problem is, with no one forcing you to do your homework, and a lot of your new friends living right next door, it's tough to buckle down and get to work.
"Make yourself a schedule and learn what works for you," Miller advises. "If you're easily distracted in your room, try other study locations on campus, such as the library or Starbucks. Yes, you want to have fun in Boston, but your main priority in being here is to get an education, so you don't want to overlook your classes."
If the answer isn't as simple as going to the library, the Educational Resource Center can help. The center, located on the fourth floor of the GSU, has offerings from peer tutoring to specialized Organic Chemistry prep courses (hello, premeds!) to help you handle your academic responsibilities.
4) You don't have to drink.
No curfew! No parents! No one asking for your ID! Why wouldn't you spend Thursday through Sunday partying?
"One thing first-year students should also be aware of is that from here on out, they are expected to act as adults," says Suen. "They can make their own choices, but they should be aware of possible consequences and also that alternatives are available."
In plain English: if you're under 21, you can get busted for drinking — which can have consequences from an appearance before BU's Office of Judicial Affairs to a real-live arrest.
Luckily there are plenty of alternatives — BU Central, the late-night venue in the basement of the GSU, has a terrific lineup this semester, including bands such as Tokyo Police Club and comedians Chelsea Perretti and Myq Kaplan (GRS'08). Not to mention that there's a whole city out there with plenty of interesting all-ages options. If you don't have a taste for alcohol, don't despair.
5) We're here for you.
"I know sometimes freshmen can feel as though they're all alone on this big campus, but they need to realize that they're not," says Miller. "There are hundreds of other people struggling with the same adjustment issues. Also, they need to be reminded that if they're having trouble, it will get better. The first weeks are always the hardest."
Your resident assistant can help you learn about BU's resources or deal with roommate trouble. Below are some links to other campus resources.
Student Health Services can help with both medical and behavioral needs, including alcohol and drug abuse, eating disorders and body image issues, and sexual health concerns.
The Student Activities Office lists events on campus and existing clubs and organizations.
The Student Employment Office has work-study, short-term, and long-term job opportunities.
SpeakEasy is an anonymous, confidential peer listening hotline. You can speak to someone Monday through Thursday, from 9:30 p.m. to 1:30 a.m., at 617-353-3528.
Marsh Chapel has information about religious life for all.
Jessica Ullian can be reached at jullian@bu.edu.