Campus Eats: Shabu-Zen
An interactive cooking process offers tasty, creative dining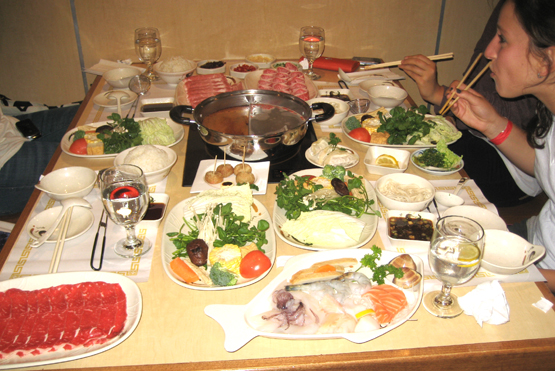 As I sat at my booth at Shabu-Zen, chopsticks poised, I realized that I had a problem. Confronted with mounds of fresh food, including perfectly coiled slivers of raw beef, translucent rings of uncooked squid, white tufts of enoki mushrooms, cubes of tofu, pork dumplings, fat udon noodles, and two types of bubbling broth to cook all of it in, I froze. I had no clue where to begin.
I am a rookie when it comes to the Japanese hot pot dining style known as Shabu-shabu. But I caught on fairly quickly to the interactive cooking process, which offers a social, creative dining experience that could entertain even the most awkward of first dates.
The restaurant, at 80 Brighton Ave., Allston, offers cooked appetizers, like tasty squid meatballs called Takoyaki, and sashimi. But the star of its menu undoubtedly is the expansive selection of raw meats, seafood, and vegetables ready to be submerged via chopsticks and metal ladles into boiling, seasoned broth to quickly cook.
Fresh garlic, miso paste, minced chiles, and scallions are all available at the table to mix with soy sauce to create customized dipping sauces.
Of the two broths I sampled, I liked the Thai Tom Yum better. Hot and fragrant, seasoned with lemongrass and chiles, the broth added a subtle spice to the unseasoned raw food.
And if you want to get the most bang for your buck, try a combo entrée. Along with the meat of your choice, you'll get a plate overflowing with vegetables and tofu as well as a side of noodles or rice. All meats, veggies, and other uncooked offerings like meatballs and dumplings can also be ordered à la carte.
If you want dumplings, though, stick with the cooked Gyoza from the appetizer menu — the uncooked versions fell apart when submerged in the broth.
Of the seafood I tried, the sweet shrimp and melt-in-your-mouth salmon were the best, while the squid and clams came out a little chewy. Among the meat choices, the boneless short rib beef was a standout selection; its fattier texture allowed it to cook thoroughly while remaining tender.
The Mochi ice cream balls, with a doughy coating of rice starch, make for a sweet — albeit a bit overpriced at $2.50 a tiny pop — ending to the meal.
Although booth and table seating is available, Shabu-Zen boasts a large bar where diners can sit with individual hot pots. Main courses range from $11.00 to $19.00.
Shabu-shabu dining can be a little overwhelming at first, but getting the hang of it is easy. And, really, how often are you encouraged to play with your food?
Shabu-Zen is at 80 Brighton Ave., Allston. Click here for a menu and for directions, or call 617-782-8888.
Click here to check out more Campus Eats, or visit the eat@bu facebook page.
Leah Mennies can be reached at lmennies@bu.edu.
This Series
Also in
April 18, 2018

April 11, 2018

March 29, 2018