WBUR Takes Three Murrow Awards
Series on Boston Medical Center wins Best News Documentary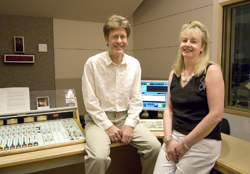 Boston University's National Public Radio station, WBUR-90.9FM, has won  three national Edward R. Murrow Awards in the Radio-Television News Directors Association (RTNDA) annual electronic journalism competition. The station, owned and operated by BU, won the awards for News Documentary — for a story on Boston Medical Center's 10 years of existence — for Feature Hard News — for a story on the Judge Rotenberg Educational Center in Canton, Mass., which uses electric shock treatment on children — and for Sports Reporting — for a story on marathon runners in Kenya. Only one other radio station, San Francisco's KCBS, took three RTNDA honors in this year's competition.
The News Documentary winner, "A Mission, a Merger, and a Medical Center: the 10th Anniversary of Boston Medical Center," is an hour-long piece broadcast in June 2006 as a two-part series. Produced by Anna Bensted, engineered by George Hicks, and written and reported by Rachel Gotbaum, it chronicles the partnering of Boston City Hospital, known for its care of Boston's poorer residents, and University Hospital, the medical teaching institution of Boston University. At a time when both hospitals were struggling to stay open, Mayor Thomas Menino (Hon.'01) did something no one had done before: he merged a public medical center and a private academic facility into one entity. United, they became Boston Medical Center (BMC).
"This is a real Boston story," says Gotbaum, who spent three months researching, interviewing, and capturing the essence of BMC and the merger that created it. "Only in Boston would they save a public hospital by moving it into the 20th century with this public-private partnership. But it is a universal story, because cities across the country were struggling with the same problem of providing health care to the poor without going broke. Boston succeeded."
Norman Stein, BMC's vice president for development, said the merger is "the only example of its kind in the country where a city institution was privatized and academically merged with a university medical center."
Feature Hard News category winner "Electric Shock Treatments: Tough Love or Torture?" was reported by Allan Coukell and edited by Margaret Evans. The story takes a close look at the Judge Rotenberg Educational Center in Canton, which is a last resort for parents of children with autism, mental retardation, and severe behavioral problems. The school came under investigation after allegations of abuse. The engineer on the piece was Michael Garth.
Winner in the Sports Reporting category, "Kenya's Fastest Town," took Only a Game reporter Karen Given to Iten, in the highlands of western Kenya. The town is home to about 500 runners who make a good living running marathons. Jon Perotti was the story's engineer. 
Nicole Laskowski can be reached at nicolel@bu.edu.