Terrier Track Conquers America
BU women take America East title: New England Championships up next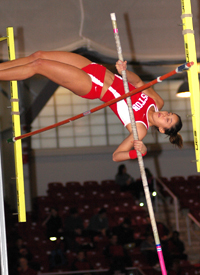 The Boston University women's indoor track and field team took home its second consecutive America East title last weekend, breaking two records and earning both performance and coaching awards in the process. The women ended the meet, held at the Track and Tennis Center on February 16 and 17, with 178 points, while the men's team, finishing third, earned 114 points.
Tahari James (SAR'08) bested two America East records en route to being named the conference Field Performer of the Year for the second year. James' record-setting distance of 12.89 meters in the triple jump helped her reach a NCAA provisional mark, and her 6.1-meter long jump smashed the previous America East record, set in 1992 by former Terrier Karen Phillips (SMG'92).
In the pole vault, Fiona Romeri (CGS'08) earned 10 points for the Terriers with a first-place, career-high vault of 3.45 meters, and Megan LaBella (COM'08) also placed high for the University, coming in third in the pentathlon. The Terriers also pulled off 10 top-three finishes in individual field events, including the mile and the 800-, 1,000-, 3,000-, and 5,000-meter runs. And in team events, the BU women won the distance medley, were second in the 4 x 800-meter relay, and finished third in the 4 x 400.
The AE Coach of the Year award for track and field went to women's coaches Robyne Johnson, Bruce Lehane, and Michael Eskind.
The men's team earned five first-place finishes and the University's second AE Performer of the Year award, picked up by David Proctor (SAR'08), winner of the individual titles in both the mile and the 800-meter run. Nick Goodman (CAS'07) placed first in the 1,000 meters, and Matt Howard (CAS'07) won the 400.
The men also set a new America East record in the distance medley — their time of 9:54.59 broke the 2006 record set by the University of Maryland, Baltimore County.
Both the men's and the women's teams are taking the week off before competing in the New England Championships, which will be held at the Track and Tennis Center, 100 Ashford St., on Friday, February 23, and Saturday, February 24.