Recycling Contest Pits Dorm Against Dorm
Hopes to double recycling to 26 tons a month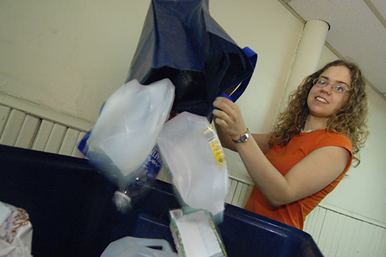 Last year, BU students recycled an average of nearly 13 tons of paper, glass, plastics, aluminum cans, and other items each month. It may sound like a lot, but it is only about 5 percent of the total trash hauled away from the Charles River Campus. The new student organization BU Green wants to double that amount.
The group is spearheading the Inter-Dormitory Recycling Competition, which begins today, March 19, with events on Marsh Plaza and ends on April 20 at BU's Earth Day celebration.
Residences will compete against one another to increase the amount of trash they recycle, and at the end of the month the winner will receive a prize, yet to be determined. Once a week, Capital Paper, BU's recycling vendor, will measure how much is recycled at 1019 Commonwealth Ave., Claflin, Rich, and Sleeper Halls, 10 Buick St., Warren Towers, Shelton Hall, the Towers, 575 Commonwealth Ave., Myles Standish Hall, Danielsen Hall, South Campus residences, and the Harriet E. Richards House. BU Green will keep students updated on their progress through posters and at www.bu.edu/recycling.
"I would love for this competition to increase campus vigilance in personal and environmental responsibility," says Rebecca Haskell (SED'09), who is coordinating many of the competition's logistics. "This has the potential to show students that they are a key factor in helping make BU a more sustainable campus."
The University is trying to make it easier to recycle. All on-campus student residences are already equipped with recycling bins, except for South Campus and the Bay State Road brownstones, which cannot have the bins because of fire safety regulations. Students living in those residences can bring their recyclables in special blue bags to central collection facilities at 504 and 518 Park Drive and 140 Bay State Rd. To request a bag, contact the Office of Environmental Health and Safety at 617-353-4094.
"We thought we could show people that it really isn't that difficult to recycle, and it would be no different than carrying their normal trash from their rooms," says BU Green member Isaac Kastenbaum (SMG'09).
BU recycles glass, aluminum cans, and all plastics, as well as white and colored paper, magazines, newspapers, phone books, and envelopes. If you're not sure if your paper is recyclable, try Haskell's tear test: if you can tear it, you can recycle it. On the other hand, paper products with food residue or grease stains, like paper towels or last night's pizza box, should go out with the regular trash.
When BU Green members first began planning a competition to make students more aware of environmental issues, they wanted to measure energy consumption in each residence, but they had to put that plan on hold because not all buildings on campus have their own electric meters.
"We focused on recycling for now because it's more feasible," says Katie Glodzik (CAS'07), who works in the Office of Environmental Health and Safety and is a member of BU Green. "Of the three Rs — reducing, reusing, and recycling — recycling is actually the least ideal." The process requires energy and fuel to break down the trash and create new products, she explains, while reducing and reusing generally don't consume additional resources.
Still, recycling can have a big impact. Every ton of recycled paper saves 17 trees, 7,000 gallons of water, 15 cubic feet of landfill space, 4,100 kilowatts of energy, and 390 gallons of oil, according to Capital Paper.
"The most encompassing method of being more environmentally friendly," says Glodzik, "is to just have it in the back of your mind that you are using resources and be conscious of what you do."
Today's events on Marsh Plaza, which include free food and entertainment, take place from 11 a.m. to 3 p.m.

Catherine Santore can be reached at csantore@bu.edu.