Curry Up for College Hockey's Top Honor
Sport's quickest goalie will be tested tonight in semifinal battle with Eagles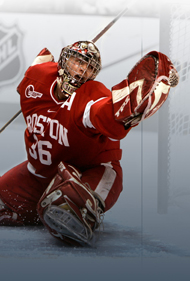 For the first time in eight years, a member of the Boston University men's ice hockey team has been named a finalist for the Hobey Baker Award, college hockey's top individual honor. Goaltender John Curry was selected as one of the final 10 candidates for the trophy on March 15.
 
Curry (CAS'07), a Terrier assistant captain, is widely considered the top goaltender in the country. He is the only goalie to be ranked in the top three in both goals against average (second, at 1.82) and save percentage (third, at .934). The 2007 Hockey East Player of the Year, Curry has posted a best-in-the-nation 7 shutouts this season, and his 13 career shutouts match the University record. 
BU fans can help Curry move one step closer to becoming the second Terrier to win the Hobey Baker Award by voting for him at www.hobeybaker.com. Voters cast a ballot for one candidate at a time, but they can vote multiple times per day. Information on Curry and his Hobey Baker credentials can be found at www.CurryForHobey.com.
Chris Drury (CAS'98), the only Terrier to win the Hobey Baker, now plays for the Buffalo Sabres.
For the third straight season, Curry has helped the Terriers reach the Hockey East tournament. That contest begins today, March 16, at 8 p.m. at the TD Banknorth Garden, when number-three seed BU faces off against archrival Boston College, seeded number two. (The University of Massachusetts and the University of New Hampshire face off today as well.) Thanks largely to Curry's goaltending prowess, the Terriers are now 20-8-9 and have achieved their fifth 20-win season in the last six years.
The winners of tonight's Hockey East semifinals, which will be televised on NESN, will advance to the title game tomorrow, March 17, at 7 p.m. to determine the 2007 winner of the Hockey East championship's Lamoriello Trophy.
Ticket prices for both contests will be $17 and $28 for balcony seats and $36 and $37 per seat in the loge/premium seats. For tickets to the Hockey East championships, visit www.ticketmaster.com or www.hockeyeastonline.com or call 617-931-2000. Click here for more about tonight's game against Boston College.
Click here to watch The Line, a video of BU Today's search for the line dividing the turf of fans on both sides of college hockey's most famous rivalry — the Terriers and the Eagles.