Nancy Feldman helps kick off a fundraiser
BU soccer coach Nancy Feldman helps kick off the Icebreaker Women's Soccer Tournament fundraiser April 2.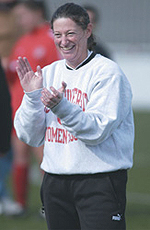 As head coach of the Boston University women's soccer team, board chair of the non-profit organization CityKicks, and a graduate student at the School of Education, Nancy Feldman has a lot to kick around. Recently, she combined all three of her jobs when she and four other SED students took on organizing the 2006 CityKicks Icebreaker Women's Soccer Tournament.
The Icebreaker Women's Soccer Tournament will feature 11 eastern Massachusetts adult women soccer teams—more than 110 women total. Each team member will donate $50 to play in the tournament, which will be held on Nickerson Field Sunday from 8 a.m. to 4 p.m. "It's a way for us to get the word out to soccer playing women that are obviously passionate about playing as well," said Feldman. "They must understand what a great value playing on a soccer team can have."
Feldman had discussed the possibility of creating a fundraiser with her fellow board members of CityKicks, a program designed to give inner-city middle school girls a chance to play team soccer.  During that same time, Feldman and her classmates Krista Fulton, Liz Driscoll, Wally Dembowski, and Carol Ann Costello also received an assignment in their Psychology of Coaching class to come up with an original volunteering project. The result was a fusion of the two initiatives; Feldman and her classmates decided to take on a fundraising event that would raise money and awareness as well as help find new sources of funding for CityKicks, which typically receives money from grants.
Many middle schools in Boston let students out at 1:30 p.m. and do not provide any after school sports or activities like many suburban schools do. CityKicks gives girls at selected schools one practice and one game per week in the fall and spring, serves 180 students each semester. "Being a soccer coach in the Boston area, this is how I can give back to the community," said Feldman. "This population seems to be underserved."