Kim Parr is a 'Voice from the Middle'
Kim Parr (CAS'06) encourages eighth-graders to explore social justice through theater.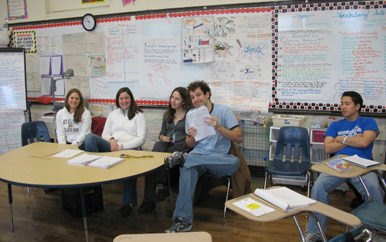 "Voices from the Middle," a collaborative theater arts project between the Community Service Center and East Boston public schools, has a new voice this year—program manager Kim Parr (CAS '06). Parr works with eight undergraduate students to bring arts education to two eighth-grade classes at the Donald McKay Elementary School
The program, in its third year, gives middle school students the opportunity to write, produce, and act in their own play. Parr, who is a political science major, says that the process of forming a play is more than just an opportunity to delve into the arts for these students.
"As much as we want to fill the void of arts-ed, we also encourage the students to delve into themes of social justice," says Parr. Under the guidance of Parr and her volunteers, both eighth grade classes have chosen gang violence as their topic.
Parr says the culmination of this year's program will be April 12, when the two classes will be invited to campus to perform their plays at the Black Box Theater.  She hopes to branch out to other schools in the future.