Ideas and people behind the Coulter Awards
Engineering molecules to treat osteoarthritis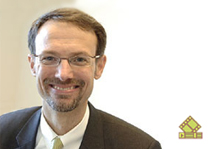 Part four of a five-part series
In November, the Coulter Foundation awarded the College of Engineering department of biomedical engineering a Translational Partnership Award of $2.9 million over five years to help biomedical technologies move from the lab bench to the patient bedside. Department faculty who found a clinical partner for their research were eligible to apply for the grant, and this year 18 teams started the process by submitting preproposals.
In this five-part series, BU Today looks at the projects selected for this year's Coulter awards. Today, in part four of the series, a slide show illustrates how an engineered molecule could help millions suffering from osteoarthritis. The research is being conducted by Mark Grinstaff, an ENG associate professor of biomedical engineering and a College of Arts and Sciences associate professor of chemistry, and Ilya Voloshin, a School of Medicine assistant professor of medicine and a surgeon with Boston Orthopedic Surgical Associates.
Grinstaff and Voloshin are developing polysaccharide surrogates, which can be injected into joints and act as a cushion to further wear and tear.
Visit BU Today tomorrow to read "Reading DNA signatures." Maxim Frank-Kamenetskii of ENG and Charles Lee, an associate cytogeneticist at Brigham and Women's Hospital and an associate professor of pathology at Harvard Medical School, are researching a means of identifying bacteria using targeted strands of a synthesized molecule that mimics DNA (peptide nucleic acid, PNA).

Click here to read yesterday's installment, "Tiny devices, big diagnoses."  Catherine Klapperich of ENG and Satish Singh of MED are developing a credit-card sized diagnostic device that uses "microchannels" to isolate and analyze disease DNA.
Click here to read Tuesday's installment, "Shining a new light on cancer." Irving Bigio of ENG and Satish Singh of MED are using a fiber-optic probe to guide the diagnosis of cancer.

Click here to read Monday's installment, "Glucose control without guesswork." Ed Damiano of ENG and his wife, Toby Milgrome, a pediatrician at Worcester's Fallon Clinic, create a wearable, automated glucose control system for type 1 diabetes.

Click here to read a Q&A with Coulter project director Arthur Rosenthal.