Forget backpacking
Forget backpacking. Cara Mattleman gets paid to travel, and then tell you about it.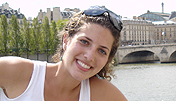 Last year, Cara Mattleman (COM'06) caught the travel bug while studying abroad in Spain. Rather than backpack through the rest of Europe, Mattleman, a student in public relations, began an internship with the Contiki Holidays travel agency.
She heard about the internship last year through the Public Relations Student Society of America. But before she began promoting the agency's various travel packages at the University, Contiki Holidays sent her on a two-week excursion through Europe so she could experience the packages for herself.
Mattleman took a Gondola ride in Venice, went white water rafting and mountain biking and Austria, and visited Switzerland, England, and France. She will be traveling to Australia in May.
"It's really about me being independent and creative within myself…it's about organizing these events and standing out from the rest of the field marketing interns in the country," says Mattleman. "It's also really fun because I love to travel, so it makes it that much more of an interesting and engaging internship."