BMC nurse honored for excellence in her field
The New England Regional Black Nurses Association honors BMC nurse Cilorene Weekes-Cabey.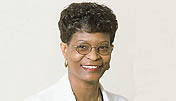 The New England Regional Black Nurses Association honored Cilorene Weekes-Cabey with its 2006 Excellence in Nursing Award at a recent celebration. Weekes-Cabey, nurse manager of the Medical-Surgical telemetry unit at Boston Medical Center, began working at BMC in 1983 as a staff nurse. In the last 23 years she has managed units including the operating room, rehabilitation, emergency room, orthopedic clinic and endoscopy suite. She has developed programs at the hospital in wound prevention, fall prevention and patient satisfaction.
Weekes-Cabey is also active in her Dorchester community, serving on the Board of Directors of Roxbury Community College, and as a volunteer teacher of computer classes for underprivileged children in Dorchester.
NERBNA presents the Excellence in Nursing Award annually to a member who exhibits excellence in the field of nursing.