Age no barrier for CELOP student
Age did not stop Yasuko Kamesaki (CELOP '06) from learning English to enjoy her world travels more.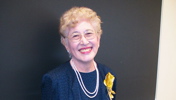 Studies may show that the best time to learn a new language is early in life, but for Yasuko Kamesaki, it's never too late to pick up new skills. The 79-year-old started learning English from scratch recently at Boston University's Center for English Language and Orientation Programs (CELOP).
   
An avid traveler, Kamesaki accompanied her late husband on trips around Europe and the United States. The enthusiastic student from Osaka, Japan, always wanted to speak English and knew it would be helpful in her travels, but hadn't had the opportunity before.
Last year, while visiting a friend living in Boston, Kamesaki became captivated by city's history and culture, the many museums, and the college environment.
She began her CELOP experience May 15, and three months later was amazed at her own progress. At first, she says, she had to look up every word in the dictionary. And even for that basic exercise, it was necessary to learn a whole new alphabet. Her classmates and teacher have helped her, she says. Kamesaki has become especially good friends with a young student from Taiwan, saying, "I have a new grandson."
Kamesaki is looking forward to returning next summer. She also hopes to encourage her friends, even those over 70, to attend the program.
"Every traveler needs English," she says. Kamesaki will have ample opportunity to practice her new language skills when she visits a friend in New York City before heading back to Japan. In November she celebrates her 80th birthday in Morocco with five friends. Why Morocco? "Humphrey Bogart," she answers with certainty, explaining, as if she'd already been to Casablanca, "memories of the movie."