Rosanna Warren on loving literature
"The human mind doesn't like to be boxed in"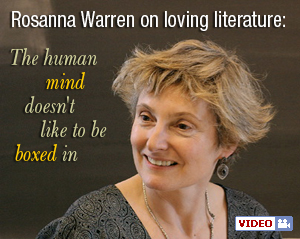 Click here to watch an exclusive BU Today video of Rosanna Warren reading and discussing three recent poems — Simile, Travel, and Moment. (Requires RealPlayer® to view.)
An organization that seeks to unite novelists, poets, critics, theorists, editors, educators, and literature enthusiasts clearly needs a poet, critic, theorist, and educator to lead it. And so for the past year, Rosanna Warren — all of the above, as well as BU's Emma Ann MacLachlan Metcalf Professor of the Humanities — has held another role, as the president of the Association of Literary Scholars and Critics.
The ALSC, currently headquartered in Boston, is a collective of scholars, writers, and students, all of whom work together to demonstrate that literature, in all its forms, is something that can be both studied and loved without restrictions of genre and ideology. The association's annual conference, which takes place this year from November 4 to 6, will be held at the Hotel Marlowe in Cambridge.
This weekend's event is the culmination of a year and a half of planning by Warren, who has been an officer of the ALSC for the past two years, while teaching at BU and working on her next book of poetry. The preparation, she acknowledges, has been an "amazing amount of work." After 10 years with the organization, however, she has found that it has had a small but important effect on the literary landscape. "We started because we felt we were in a climate of intolerance," Warren says. "The climate is different now."
The ALSC was founded 11 years ago as a response to what Warren calls an intense narrowing of academic viewpoints. The study of literature, she says, had become dominated by particular political and social theories about which authors were worthy of study and how their work should be read — "and many of us," she says, "simply felt we were no longer interested in this type of scholarship. We wanted to be free to investigate the arts of writing and the study of literature, free from political equations."Â?
The study, she explains, had gotten separated from the love of the craft. "I felt that a literary culture was being lost, and it frightened and depressed me. I was worried for young people who had an instinct to tell stories and make poems. I began to wonder, where would they do this? Where would they learn to live in literature? And it began to matter intensely to me."
The early days of the ALSC involved faculty from BU — including William M. and Sara B. Warren Professor of the Humanities Christopher Ricks — UCLA, Claremont McKenna College, Stanford University, and other institutions around the country. Funding was secured through a grant from the Lynde and Harry Bradley Foundation, a mission statement was drafted, and in September 1995, after more than a year of discussion and planning, the association's first conference was held in Minneapolis. Warren, UNI Professor Emeritus Roger Shattuck, and CAS English Professor Robert Pinsky were among the participants.
Since then, the association has grown dramatically. There are now more than 1,000 members and the organization puts out two publications: Literary Imagination, a triquarterly review that includes poetry, fiction, translations, and critical essays, and Forum, which invites writers and scholars to respond to current social issues. The most recent edition, Spring 2005, addresses the Reading at Risk survey released by the National Endowment for the Arts in 2004.
The annual conference remains a central event, and Warren, in her capacity as president and prior to that vice president, has spent 18 months planning this weekend's gathering, which includes writers and editors from a wide variety of scholarly backgrounds. Warren says that it is devastating when participants are limited to discussing their own genres. "We're making a playground where imaginative writers come together with scholars and critics for conversation," she says. "If they fight, so much the better."
This year, panel discussions will be held on Ancient Poetry and War, Mythology in the K-12 Classroom, The Fiction of Naguib Mahfouz, and Writing in the Wake of the Quixote, among other topics. Norman Mailer is the guest speaker; other participants include Christopher Maurer, the chairman of the modern foreign languages and literatures department, Shakir Mustafa, an MFLL assistant professor, and Irena Grudzinska Gross, the executive director of BU's Institute for Human Sciences.
The conference marks the end of Warren's tenure as president of the association; she will spend the rest of the academic year on sabbatical in Texas and in Berlin, working on new poetry and essays. It has been difficult at times, she says, but also "a very exciting experience."Â? The ALSC has developed into a thriving community, but more important, the academic climate has changed. Literature, Warren says, can be both studied and enjoyed within a university setting.
"I knew colleagues who practically had to apologize for teaching novels, poems, and stories in the classroom — to apologize for liking them, for caring about them. I don't think this is the case anymore," she says. "It was a natural development. The human mind doesn't like to be so boxed in. And real literature doesn't like to be boxed in."