Arthur Che visits expensive restaurants so you don't have to
Eat and tell: Arthur Che dines worldwide and writes about it on his Web site.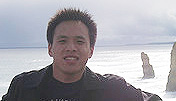 A BU student is winning national attention for his Web site documenting his gastronomic adventures. Arthur Che (CAS'06) keeps a record of all his dining endeavors, taking pictures of all dishes and writing lengthy critiques of restaurants in the neighborhood and around the world. The diligent food critic went on an "eating tour" of France this summer with his family and results are on his Web site, www.arthurhungry.com.
What began as a weblog in October 2003 has become a multifaceted Web site. "I try to keep the site unofficial so I can keep it from being formal," he says. "For some places I'll do long reviews, and others I'll just comment really quickly on."
Born in Hong Kong and raised in San Francisco, Che is currently studying in Australia through BU's study abroad program. He attributes his broad range of tastes to traveling frequently with his parents and other family members. He says that they often plan their itineraries around meals; their recent trip to France included visits to restaurants in Paris and Southern France that Che describes as "in a different class."
He says his site receives between 400 and 500 hits a day; a record 722 occurred last March after the site was featured in the Washington Post. "For me it's like a journal, and a way to keep track of places I've been to. Now I actually have some readers too, [so] I feel like I have to keep up with it."
A recent posting describes a visit to the French Laundry in Napa Valley, where nine course meals begin at $175 a person. Che reviews restaurants with "cheaper, regular food" and pricier options. He offers this advice to the average diner: "Try anything once, or you can't say you don't like it."