Spring 2023 New Course: CFA MU 855 ZJ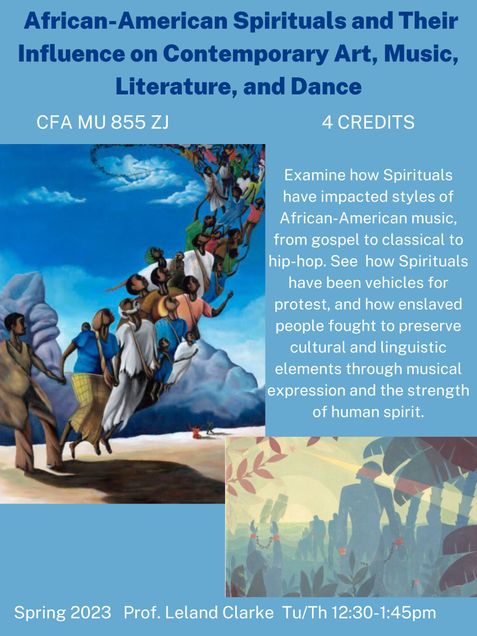 CFA MU 855 ZJ: "African-American Spirituals and Their Influence on Contemporary Art, Music, Literature, and Dance" is a new topics course taught by Professor Leland Clarke for graduate students in CFA's Musicology & Ethnomusicology program.
Tuesdays & Thursdays at 12:30 – 1:45pm
Examines how Spirituals have served as essential touch points for all styles of African-American music, ranging from gospel to classical, and are even frequently sampled in hip-hop. Students will study how African American classical composers, including Florence Price; visual artist Aaron David, choreographer Alvin Ailey and American novelist Toni Morrison have utilized spirituals as reference material
through direct quotations, themes, variations and performances.
By focusing on this musical expression and the strength of human spirit expressed through this music, students will learn how enslaved peoples maintained their dignity, resisted the dehumanizing impact of slavery, and fought to preserve key cultural and linguistic elements even in the midst of the horrible oppression of slavery.
Finally, students will examine why Spirituals have played a significant role as vehicles for protest at intermittent points during the twentieth and early twenty-first centuries around the world including Russia, Eastern Europe, China and South Africa. Some of today's well-known pop artists continue to draw on the spiritual's tradition in the creation of new protest songs. Examples include Bob Marley's "Redemption Song" and Billy Bragg's "Sing their souls back home."
Register through the Student Link.