New website brings BU events to the world
BUniverse archives videotapes of lectures, performances, and readings
Next week, when Pulitzer Prize–winning poet Franz Wright reads from his latest book at Mugar Memorial Library, the reading will reach an audience much larger than the people fortunate enough to attend the event. Wright's talk, and all other events sponsored by the Howard Gotlieb Archival Research Center this fall, will be made available to anyone with access to the Internet, thanks to a new Boston University Web site called BUniverse.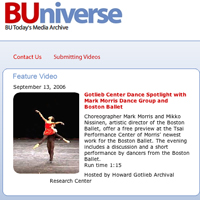 The site, created by the Office of Marketing and Communications, was officially launched this week with 31 videotaped events. The menu includes such varied topics as a conversation between choreographer Mark Morris and Mikko Nissinen, artistic director of the Boston Ballet, a University Lecture about the role of biology in the postgenomic era, and a talk by French economist Jean Tirole about the reasons people engage in selfless, prosocial behavior that carries little reward. Eventually, says Steve Burgay, vice president of marketing and communications, the site will offer academic, cultural, and athletic events from all the University's schools and colleges.
"There are a great many things that happen on campus that are of interest to people outside of campus — the Great Debate at the College of Communication, lectures, performances," Burgay says. "The BU family is expanding worldwide, and offering access to the type of things that they enjoyed and participated in while they were here gives them the kind of ongoing relationship that they've asked for."
BUniverse, which links from BU Today, allows visitors to search for videotaped events by topic or by keyword and to choose events from a list of the five most-often viewed videotapes. Visitors can also subscribe to an e-mail that will tell them when new videos are added.
Vita Paladino, the director of the Howard Gotlieb Archival Research Center, says that BUniverse will play a critical role in expanding the audience for the center's events. The Gotlieb Center brings as many as 20 speakers and performers to campus each semester.
"Many of our guests are role models for our students, peers for our faculty, and interesting characters for our alumni," Paladino (MET'79, SSW'93) says. "I'm just thrilled that people who can't make the events will still be able to benefit from the revelations and details our speakers offer."
Art Jahnke, executive editor of BU Today and BUniverse, says he hopes that all University deans, department heads, and faculty will consider videotaping special events so that they can be archived on the new site. While his office is unable to provide a videotaping service, Jahnke says, it does have the ability to convert tape in several formats to one that is suitable for use on the site. BUniverse, he says, welcomes tapes of all events that are of broad interest to the University community.