Follow the steps outlined below to get Lync for the Mac.
1. Go to www.bu.edu/office365
2. Where prompted, enter login@bu.edu as your organizational account, replacing login with your BU login name. Then Sign in. You should not (and will not be able to) provide a password at this point.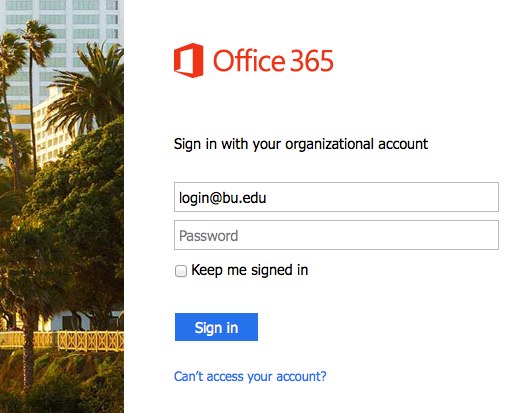 3. After you have signed in, you will be redirected to an additional (adfs) prompt. At that point, you should again provide your e-mail address in the form login@bu.edu, and this time you should provide the password you normally use to access e-mail.
4. From the landing page, go to the upper right corner and select Office 365 settings.
5. Then, select get started on the left.

6. Once you are in Office 365, click on PC & Mac.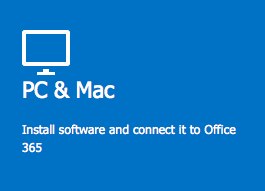 7. Go to Step 1, click on the blue Install button and the installer will download to your Desktop.
8. Go to the Desktop, launch the installer and go through the install process.
9. Once the installation is complete, you may close that installer's window, return to Office 365 in your browser and do Step 2 – download the update.
10. Go to the Desktop, launch the update installer and go through that install process.
11. Once the update is installed, you may close that installer's window, and then do the next step, which is also pasted below for your convenience…
12. Find Lync in your list of Applications and configure your settings as described and shown:
a. In the Lync for Mac sign-in window, type your user ID (login@bu.edu) and password.
b. Click Advanced.
c. Under Authentication, DESELECT/CLEAR the "Use Kerberos" check box.
d. Under Connection Settings, click Manual configuration.
e. In both the Internal Server Name box and the External Server Name box, type or paste sipdir.online.lync.com:443

——————————
When finished, your Advanced settings should look like this: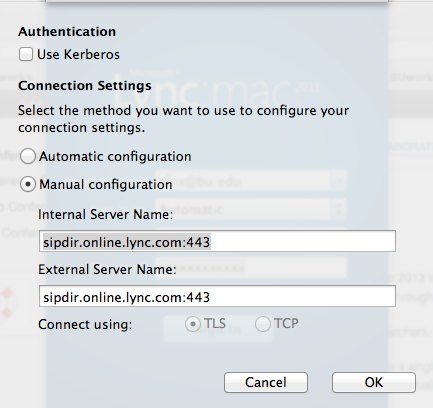 13. Click OK. Then, as shown below, in the Lync for Mac sign-in window, provide your email address (login@bu.edu) and the password you use to access email, then click Sign-in.
Help
If you experience any problems, see Troubleshooting Lync sign-in errors or submit a Help request for assistance.
Learn More
To learn more about use of Lync once you have it installed, see the related Learn More page.