On Tuesday, July 10, between 9 a.m.- noon, Boston University (BU) will conduct an emergency response exercise at the National Emerging Infectious Diseases Laboratories (NEIDL) located at 620 Albany Street. This simulation is part of the NEIDL's ongoing safety and training program for laboratory personnel and internal and external response officials.
EIDA2Z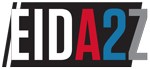 The NEIDL hosted its Inaugural Symposium on
emerging infectious diseases
NEIDL Updates
Raising Ebola; A 360 Video with Elke Muhlberger. See Video
Science & Research
Meet our research community and learn about the NEIDL's role in discoveries related to emerging infectious diseases.
A Culture of Safety
Comprehensive safeguards and oversight are in place to protect researchers and the community.
Community Engagement
The community's involvement is important to the success of the NEIDL. Learn how you can participate.
Upcoming Events
Upcoming Events at the NEIDL