Cities in the Federal System: Building Bipartisan Relationships in a Hyper Partisan Era
Cities in the Federal System: Building Bipartisan Relationships in a Hyper Partisan Era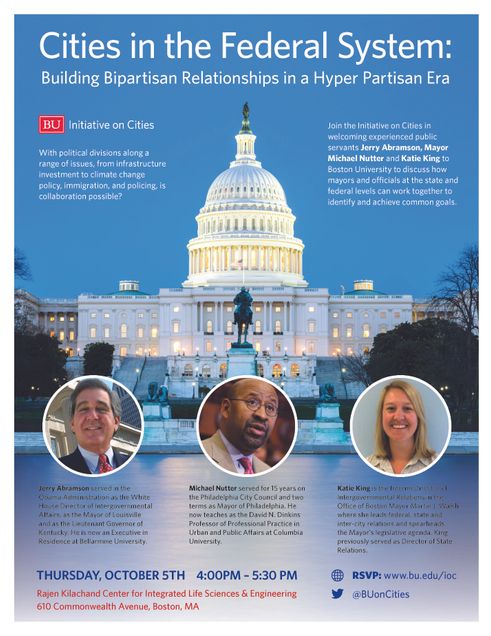 Jerry Abramson, Michael Nutter, and Katie King (CAS'06, SPH'13) visited the IOC on Thursday, October 5th, to explore intergovernmental relations in a partisan era. The panel discussed how cities, states, and the federal government collaborate across issues and party lines.
Katie King, the Interim Director of Intergovernmental Relations for the City of Boston, mentioned how the White House consistently reached out to city leaders to tackle local issues, like homelessness in Boston, under the last administration. Jerry Abramson, the Former White House Director of Intergovernmental Affairs, Lt Governor of Kentucky and Mayor of Louisville, KY, gave more examples of federal support for city projects, like Nixon's model of revenue sharing. Abramson emphasized how mayors are the best officials to lead local change and notify the federal government of larger trends. Local data and feedback from mayors formed the beginning of President Clinton's 1994 Crime Bill. Michael Nutter, the former Mayor of Philadelphia, PA, noted his near-daily conference calls with the federal government during his term to coordinate budgets and resources. Nutter stressed how cities and metropolitan areas represent 90% of America's GDP; the federal government would be "ignoring the economy of the United States if [it is] not talking to cities."
In an increasingly partisan era, mayors often set the tone for a community's statement of values, said King. For example, Mayor Walsh led a strong response against the federal government's immigration policy. Nutter agreed and questioned the constitutionality of city officials enforcing a federal policy with which they disagree. In addition to influencing local policy, mayors also take steps to exert influence nationally on issues of local import. Abramson gave the example of mayors from across the country coming together to file amicus curiae briefs to support environmental legislation. When working in the White House, Abramson's staff "always had the mayors. They always had our back."
One of the biggest issues that cities face is the lack of civic engagement, according to Abramson, noting that most citizens cannot even name their state legislators. King described how that is even more of a reason for cities and states to put their differences aside and work together, saying they "should not shy away from the grievances people have with government." For example, many citizens would think the MBTA is run by the city of Boston, not the Commonwealth of Massachusetts. This further encourages Boston to cooperate with the state to produce high-quality service so it doesn't face unnecessary criticism. Nutter highlighted that constituents elect and pay for their local representatives, so constituents might as well pay closer attention to their work.
Nutter explained how local cultures and values may not be shared across the state, which often leads to state preemption of local policy. Abramson noted how the federalist mindset often pushes issues "down the food chain" onto the local level. King agreed on the underlying tension and balance of power between the different levels of government, but said that cooperation is the ultimate objective. She emphasized how cities and states often worry too much about shared end goals, when the most important aspect should be opening lines of communication and actively seeking collaboration.
Watch their discussion here.