Come visit us! We'd love to meet you!
Where are we? 4th Floor of the George Sherman Union
When are we open? 9:00am – 5:00pm Monday- Friday
---
Now recruiting 2015-2016 CSC Program Managers!
We are looking for next year's team of social justice leaders! Whether you are new to the CSC or a multi-program veteran, we seek students who are passionate about civic education, committed to social justice, and willing to engage their peers in direct service, education, and reflection around some of the most pressing community challenges and opportunities. Please look through the links below for more information about the programs, reach out to current program managers to learn more, and consider applying for our full-year, paid leadership positions.
Information about requirements and specific positions is included in the PM Application 15-16. The deadline to apply as per the included instructions is Monday, April 6, 4 p.m.
---
Global Day of Service:

 Saturday, April 18th 2015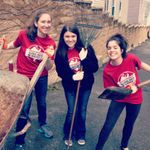 BU's Global Day of Service is a chance for undergraduates, graduates, faculty, staff and alumni to give back to the Greater Boston Area. Undergraduate students: register now as a volunteer on Eventbrite here OR Sign-up to be an Undergraduate Student Site Leader. Site leaders will be the main contact person for the site, and are responsible for making sure that volunteers get to and from site safely. Sign up here.
For more information visit www.bu.edu/gds or email bugds@bu.edu.
---
Check out what we're doing!
---