Category: Programs
The Center for English Language and Orientation Programs (CELOP) has been a part of Boston University for over 40 years. In that time, CELOP has welcomed thousands of students from around the world who wanted to improve their English and strive towards a degree program or advance in their professional career.
The president of Boston University, Robert Brown, recently published a letter addressing the recent Executive Order that impacts entry into the United States by individuals from Iran, Iraq, Libya, Somalia, Sudan, Syria, and Yemen.
To quote President Brown:
"The new administration's executive order to temporarily ban people from seven Muslim nations from entering the United States is fundamentally inconsistent with the values that are the bedrock of higher education, and indeed, of our pluralistic, welcoming society."
We advise students to read this announcement by BU's International Student and Scholar's Office (ISSO) about the Executive Order. If you are a student or scholar from one of the above countries and currently in the United States in any non-immigrant status, (e.g., B, F, J, H, O, TN, etc.) the ISSO would advise against travel outside the United States.
CELOP fully supports President Brown and upholds the University's long-standing commitment to international education and to the promotion of global understanding and goodwill.
CELOP will continue to welcome, educate, and support students from around the world.
If you have any questions or concerns about applying to CELOP, please email us at celop@bu.edu
Boston University students express their concerns about the Executive Order.
Every semester, CELOP celebrates students who have been admitted to universities across the country. This spring semester, 65 CELOP students were accepted to degree programs beginning in the fall, including 51 for undergraduate programs and 14 for graduate programs.
Students were accepted into programs such as business, biomedical engineering, cyber security, law, education, and finance at universities including Boston University, Georgetown, Johns Hopkins, University of Southern California, University of California Irvine, and many more.
Congratulations to all the students and
we wish you all the best in pursuing your degree!
Accepted to Master's Degree Programs
Haifa Alfaqih, Northeastern University
Sulaiman Alamro, Georgetown
Abdullah Alanezi, Rochester Institute of Technology
Abdullah Alzahrani, Rochester Institute of Technology
Yazeed Aljuhani, University of Southern California
Ohoud Alyousef, Boston University
Ahmed Alshareef, Johns Hopkins University
Meshal Mitchell Alshammari, Northeastern University
Nahhal Bukhari, Lesley University
Abdulkarim Aljayzani, Georgia State University
Mohammed Khattab, University of Southern California
Saeed Alasmare, Seton Hall University
Thanawit Hongkoo, Northeastern University
Afnan Alabdulatif, George Washington University
Accepted to Undergraduate Degree Programs
Abdulaziz Mass, Wentworth Institute of Technology
Mohammad Alyaqoub, Arizona State University
Nouf Alduaij, Arizona State University
Abdullwase Ismaeil, Michigan State University or University of Missouri
Tian Tian, Villanova University
Shuning Yin, Purdue
Ahmad Alawadhi, Boston University
Hao-Ping Keiko Chuang, Boston University
Samuella Dossou, University of Toronto
Sara Bourashed, Arizona State University
Mohammed Al-Khateeb, Northeastern University
Ali Alsadah, Penn State University
Nezar Allismail, University of Arizona
Faisal Alsadah, Wentworth Institute of Technology
Ahmad Alkhomri, University of Arizona Tucson
Biagio Assemien, Fisher College
Henan Li, East Los Angeles Community College
Rania Benabdelali, Suffolk University
Mariangel Hernandez Contreras, MCPHS
Motassem Kanna, Fisher University
Faisal Khaled S Aalouh, University of Wisconsin
Abdullah Abu Alshuor, North Carolina State
Yasmeen Abuzeid, University of Wisconsin
Roua Ajawi, University of California Irvine
Abdulrahman Al-Sudairi, Penn State University
Aseel Albeshri, University of Wisconsin
Abduljabbar Alhamood, Boston University
Nouf Alharbi, Boston University
Faris Aljamed, Boston University
Azzam Almatrafi, Virginia Tech
Khlifa Alnaim, Boston University
Abdulshaheed Alqunber, Boston University
Batool Altaher, University of Washington
Mohammed Bader, Virginia Tech
Meshal Binmitaab, University of California Davis
Lujain Fatta, Rose Hulman Institute of Technology
Ghassan Filimban, University of California Irvine
Abdulrahman Abdu, University of Missouri Columbia
Mohammed Al Hashel, University of North Carolina Charlotte
Abdullah Alaboudi, Penn State University
Hamad Alalyan, University of North Carolina Charlotte
Azzam Alansari, University of Missouri Columbia
Abdulaziz Aldamashqi, Illinois Institute of Technology
Nasser Alhammad, Penn State University
Abdlrahman Alharbi, University of North Carolina Charlotte
Osaid Ali, Worcester Polytechnic Institute
Omar Alnamasi, University of North Carolina Charlotte
Ziyad Alqahtani, Penn State University
Ali Alsunitan, University of Missouri Columbia
Abdullwase Ismaeil, University of Maryland
Hamzah Ismaiel, University of Missouri Columbia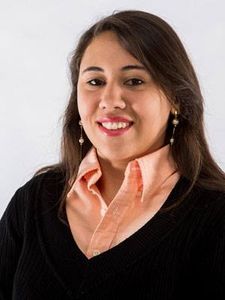 Larissa Queiroz Pontes is a biotechnology undergraduate from Brazil's Federal University of Ceará. She studied at CELOP in 2013 in order to improve her English and prepare for academic study at Boston University's Metropolitan College. We caught up with her recently and here's what she said.
Q: How was your CELOP experience?
I had a delightful experience at CELOP studying English for my TOEFL test and I was in contact with so many other cultures and made great friends. I learned a lot and improved my English. I improved my vocabulary and my listening, and obviously my speaking got stronger.
Q: How did your experience at CELOP help you achieve your goals?
I had to take TOEFL to get into BU Metropolitan College to take my academic courses, and I succeeded because of CELOP. When I studied at Metropolitan College, people could understand me and I understood them well.
Q: What would you say to a future CELOP student?
Enjoy your time at CELOP, go to meetings, fit in to conversation groups. Get into the American culture.
Currently Larissa is part of a team of students from her university, including other former CELOP students Daniel Carlos and Marcus Rafael, that will come to Boston this October to compete in iGEM, an annual world wide synthetic biology competition. Their team (pictured below) is planning to genetically modify micro-algae so that they produce a protein that is lethal to Aedes aegypti larvae, the species responsible for transmitting yellow fever and other serious diseases. Larissa explains "The curious thing about this protein is that it is toxic just to the mosquito larvae, not for humans or any other species."
Participation in the iGEM competition requires their own funding. Anybody interested in supporting their team can make a donation to their crowdfunding campaign.
We wish Larissa and her team the very best in the competition, and the best in all of her future endeavors!
Eva Haoa is the daughter of Nicolas Haoa, an alumnus of CELOP who studied here 35 years ago. We recently posted an interview of the father-daughter duo on our CELOP YouTube channel.
We caught up with Eva Haoa in week 6 of her 12-week Spring program, right before the spring break and asked her a few questions:
Q: What do you like the most about being at CELOP?
Eva: The teachers. They are very kind.  I learn a lot because of them.
Q: Your father gave you advice to make friends from all over the world. Have you done that?
Eva: Yes! I have made friends from Colombia and Venezuela. And I met one friend from China too. It is good because I speak English with her.
Q: Where are you going for spring break?
Eva: I will stay here in Boston.  There is a lot to do in Boston!
Eva plans to continue studying at CELOP this summer semester.
Right: Eva poses for a photo with her friend Shuning Yin from China.  Eva joined Student Life Coordinator Shelley Bertolino and 14 other CELOP students to volunteer at the local Cradles to Crayons organization.
Below: Eva has a conversation with John Kopec, her father's teacher at CELOP 35 years ago. She was surprised to learn that her father was placed in the same level as her. John tells Eva about the day Nicolas and his classmates celebrated John's birthday. As seen in the old photos in the video, they got him a birthday cake, and took a class photo outside the CAS building.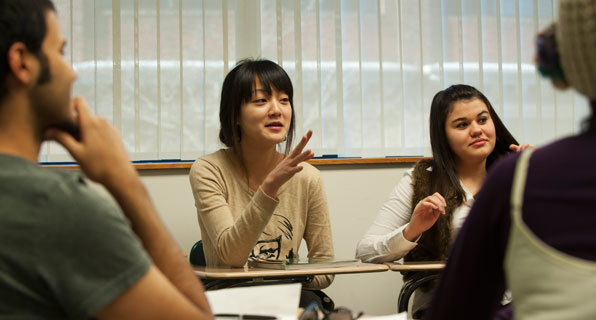 CELOP launched two exciting new programs this week, designed to prepare students for success in their academic and professional careers: the University Readiness Program and the English for Engineering Program.
The 3-week University Readiness program is designed to help students adapt to life in the U.S. and to develop skills for academic and social interactions. There are three start dates in August to choose from so that students can enroll in the program that ends right before their university or college coursework begins.
The English for Engineering program is a 4-week program that develops the English language skills of aspiring engineers, and prepares them to enter the engineering job market. This program starts on July 25th and ends on August 19th.
Alan Broomhead, Managing Director of CELOP, explained the reason for launching these two new programs:
"Many international students are coming to the U.S. to study for degrees in the STEM (science, technology, engineering, math) fields, and need to be able to communicate their ideas clearly in English. And many international students find that even though they have attained a good score on the TOEFL, they are not fully prepared for the demands of degree-level studies here in the U.S. Our new programs address these students' needs."
You can learn more about each program by visiting their webpages:
For 40 years, Boston University has helped thousands of international students improve their English, prepared them for academic study at a U.S. university, and helped them apply and get accepted to a degree program.
Read about the experience of one of our former students, Marcos Dos Santos Silva from Brazil, who studied at CELOP in 2013.


How was your CELOP experience?
When I arrived in the U.S., everything was new for me. It was my first time traveling internationally. I had excellent teachers at CELOP and I am forever thankful to them. They helped me a lot, and not just with English, but with information, tips, and things related to my future studies. My time at CELOP was really good and I will be forever thankful to my teachers, advisor, and Boston University.
How did your experience at CELOP help you achieve your goals?
When I came to CELOP, I didn't speak English well. But after studying a lot, and with my teachers helping me, now I am able to communicate well with anybody. After CELOP, I went to Metropolitan College at Boston University to study two semesters of Biology and I also volunteered at the Harvard Museum of Natural History. CELOP was really important in helping me achieve these goals.
What would you say to a future CELOP student?
I have one word for you: Enjoy! Time goes fast, and for me, two semesters went really quickly. Go to all your classes, do all your homework, travel, make friends, and enjoy. CELOP is amazing!

Qais Akbar Omar, an Afghan-American writer and alumnus of Boston University, came to CELOP on November 10th to give a talk about his book: A Fort of Nine Towers. The book takes its name from the home Omar grew up in as a child. In his talk at CELOP, Omar showed photos of Kabul and his family as he elaborated on the story told in the book. Expressions of delight and surprise filled the room as they connected each photo with a character or place in his story.
Students were clearly captivated by his talk. "The book he wrote was fabulous. I really enjoyed it," said Khalid, from Saudi Arabia. "Before I read the book, the only thing I knew about Afghanistan was from the news, and the only thing they mention in the news is the war. So when I read the book, I learned Afghanistan, many years ago, they were living a safe life." When asked about what it was like to meet the author of a book he had read, Khalid said, "I really want to thank Qais. I've never felt like this in my whole life."
Classmates echoed this sentiment. "It is very inspiring, funny, and sweet," said Janice, a student from China. "I didn't know a lot about Afghanistan because I'm from China. I read the book and when I Googled Afghanistan, I learned a lot. It let me know more about what matters in the world, and peace is more important."
Cheryl Pavlik, one of the teachers who assigned this book in her class for pleasure reading, shared her thoughts about the book and Qais' talk. "This is an incredible opportunity for all of these students, I mean, for me too: to read a memoir that is so personal, and so hair-raising in places, and then meet the person who went through those experiences, is quite incredible. I think for everyone, this will be something they remember. It really does tell you a lot about the depths to which human beings can fall, and the heights to which they can soar."
If you would like to read the book, you can find it here.
The College of Engineering at Boston University, in collaboration with CELOP, is committed to developing the skills for success both as graduate students and future employees. The Global Engineering Career Readiness Program is a customized, four-week summer immersion program designed to prepare international students for success in the Masters' program and their future careers.
Global Engineering Career Readiness Program is a collaborative effort of multiple staff, faculty, students and corporate partners. Watch the video to learn more about it.
"The English language instruction was really useful, but the information about American culture, humor, news and what to expect in the classroom was even more valuable. I feel better prepared for my classes in the fall."

Xiao – Master's student in Materials Science and Engineering, People's Republic of China
International Education Week (IEW) is a joint initiative of the U.S. Departments of State and Education and is celebrated in more than 100 countries worldwide. IEW is meant to generate enthusiasm, broaden horizons, spark new dialogues, and encourage new ideas to expand international perspectives. Boston University's Global Programs celebrated IEW from November 12th through the 22nd by holding different events around campus.
On November 18th, BU Global Programs, CELOP, Study Abroad, ISSO and Marsh Chapel joined together to host the "Cultural Exchange: Ideas, Questions and Stories from Around the World" event. The event was well attended by many students and held in BU's George Sherman Union.
The event was a cross between an information fair and speed-dating.  The activities were designed to introduce international exchange students, including CELOP students, here on campus to those who are preparing to study abroad or take part in an exchange program. Students walking into the event were treated to a language exchange from native speakers from Lebanon, Japan, China and Germany. Students then rotated from one table to the next in order to learn about the culture from the different countries represented at each table.
The cultural exchange was indeed a university-wide celebration of BU's global engagement.
CELOP welcomed hundreds of students from over 35 countries for the Fall 2013 Semester. A majority of the students checked-in over two days on September 18th and 19th. The check-in process started with the Admissions staff checking immigration information and making sure each students was registered for their preferred program. As students checked-in, they also met with CELOP faculty and advisors to get help and advice on their classes. However, it wasn't all about class as CELOP's Student Life Coordinator was there to tell students about exciting activities and tours around Boston and Boston University.
Many students also showed up for the Welcome Party on Friday, September 20th. There was food, music and even games. Students were given an "ice-breaker" game that encouraged them to introduce themselves and speak with someone they had not met yet. Prizes, including CELOP t-shirts, were given out to students that won the game.
CELOP welcomes all our new and continuing students and we hope you have a great fall semester!