Columbus Day Weekend: Culture, Parades, and Plenty of Food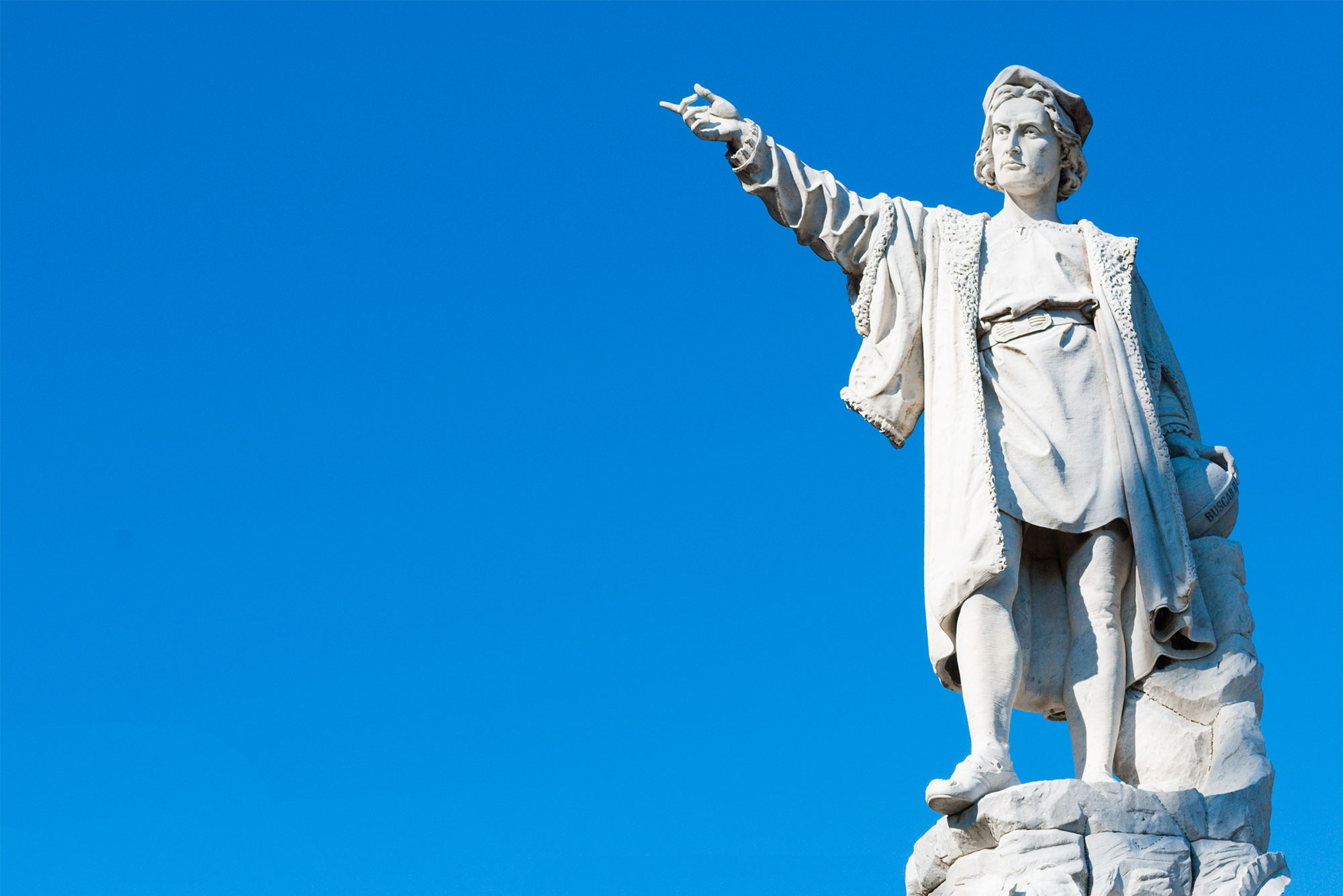 Things-to-do
Columbus Day Weekend: Our Fun Holiday To-Do List
Check out these Columbus Day, Indigenous Peoples' Day, and other events
Columbus Day weekend is here. Spend your three days off exploring Boston and taking advantage of all the city has to offer. We've put together a list of events celebrating Columbus Day and Indigenous Peoples' Day, and various music festivals, museum exhibitions, and more, so you can enjoy a culture-filled (and fun) holiday weekend.

Friday, October 11
Hop on the Red Line to Davis Square for the annual HONK! Festival, featuring live music and a parade. The spectacular three-day event will include a lantern-lighting festival and more than 25 street bands from places like Germany, Brazil, and New Orleans. On Sunday, local groups, activists, and musicians will march in a grand parade from Davis Square to Harvard Square, where the bands will play at the annual Oktoberfest to raise awareness for pressing social justice and environmental issues.
Find dates, times, and locations for the HONK! Festival here.
Saturday, October 12
Arnold Arboretum
The colorful fall foliage in Boston is a must-see before the dreariness of winter sets in. The Arnold Arboretum's 281 acres are home to an abundance of trees and the park is one of the hot spots in Boston to picnic, stroll, and view flora and fauna. At 10:30 am there will be a free guided tour of the arboretum and its history. In addition, through October 13, the Hunnewell Building (at the arboretum entrance) is displaying Between the Leaves: The Unique Prints of Sarah Cross. The gallery displays Cross' fascinating prints made through the historic bichromate process.

The Arnold Arboretum, on the Arborway in Jamaica Plain, is open daily from sunrise to sunset. The Hunnewell Building is open from 10 am to 5 pm. There is no admission charge, but you can make a donation to support the arboretum. Learn more about the arboretum here. 

Is there anything better than a food festival? Maybe not, but a festival solely dedicated to serving craft chocolates is certainly in the running. The second annual New England Chocolate Festival is being held in the South End, and its Chocolate Pavilion will host more than 40 chocolate makers and chocolate-related vendors from around New England. There will be plenty of opportunities to sample and buy diverse chocolate products and view demonstrations by chocolatiers and artists, including Maestro Juan Alonso of Mexico and local artist Laurel Greenfield. There will also be a Chocolate Sensorium, where you can get a hands-on experience of what the chocolate-making process is like and a cafe with coffee drinks to pair with your chocolate finds.

The New England Chocolate Festival is Saturday, October 12, and Sunday, October 13, from 10 am to 6 pm, at the Cyclorama at the Boston Center for the Arts, 539 Tremont St. Buy tickets here.

Sunday, October 13
Boston's annual Columbus Day Parade, now in its 83rd year, promises live music, Duck Boat floats, colorful Old-World Italian garb, and more. The parade participants celebrate Boston's Italian heritage, the expeditions of Christopher Columbus to the Americas, and the Massachusetts military for their contributions to American freedom. Bring your appetite, as the parade route ends in the North End, the place for authentic Italian food.

The Columbus Day Parade is Sunday, October 13, starting at the Boston Public Market near City Hall Plaza at 1 pm.

Oktoberfest is a fun and boisterous event known for its beer and festivities. Harvard Square's version includes vibrant arts and crafts, live music, delicious international foods, and a whopping six beer gardens spread around the festival grounds. The HONK! parade feeds into Harvard Square, arriving at approximately 1 pm. There will be HONK! performances at four different stages throughout the day for your musical entertainment.

Oktoberfest is held in Harvard Square from noon to 6 pm. The HONK! parade will arrive about 1 pm.
The lively SOWA Market hosts more than 175 artists every Sunday selling their crafts. This Sunday there is a special do-it-yourself workshop, where jewelry artisan Cristina Garcia will teach necklace-making techniques such as wire-wrapping. You will also have the chance to make your own unique necklace with her help.

SoWa Market, 460 Harrison Ave., is open every Sunday through October. Tickets to the DIY workshop are $20.

After this weekend, Georges Island and Spectacle Island will be closed for the season. To make the most of the remaining time, Boston Harbor Islands National State Park is offering free ferry tickets to both islands this Sunday. Georges Island has a Civil War–era fort that will catch any history-lover's attention, while Spectacle Island promises panoramic views of Boston Harbor. Whichever island you choose, this opportunity is ideal for any adventurer on a budget.
Boston Harbor Free Ferry Day is Sunday, October 13. Tickets become available at 8 am the day of the event and are first-come, first-served, and can be picked up at the Boston Harbor Cruises Ferry Center, One Long Wharf, Boston. Arrive early as tickets will go quickly. We suggest keeping an eye on the website for weather-related cancellations.

Monday, October 14
Want to learn more about Native American history and art but don't know where to start? Take a trip to the Museum of Fine Arts—it's free admission—this Indigenous Peoples' Day for tours of the Native American art galleries, art-making demonstrations and activities, and music and dance. The tours are led by Native American educators and artists.
The Museum of Fine Arts, 465 Huntington Ave., opens its doors for the Indigenous Peoples' Day event on October 14 from 10 am to 5 pm. Tickets are required and are available at the ticket desk. Admissions and tours are free.

The beautiful Isabella Stewart Gardner Museum will celebrate Indigenous Peoples' Day by opening its doors to the public for a free event-filled day. The theme of the day is Abundant Voices. Through the help and collaboration of Marsha Parrilla of Danza Orgánica, the museum will showcase the art of local indigenous tribes, including the Nipmuc and Mashpee Wampanoag. Watch interactive art, performances, and storytelling.
The Isabella Stewart Gardner Museum, 25 Evans Way, Boston, will host its Indigenous Peoples' Day Abundant Voices event October 14, from 10 am to 4 pm. Free admission and timed entry begin at 11 am.

Don't miss Boston's largest free day of art and culture activities this Columbus Day. There will be performances and interactive events all over the Fenway area, at the Berklee College of Music, Boston Symphony Orchestra, and the New England Conservatory, among many others. Hear from Boston Poet Laureate Porsha Olayiwola, listen to the Boston Children's Chorus, cheer on a New Orleans–style parade with the Hot Tamale Brass Band, and enjoy a free cupcake from Oakleaf Cakes Bake Shop—and that's just the beginning. After that, you are encouraged to walk or take advantage of the Blue Bikes $5 All Day Adventure Pass.
Find more information about this year's Fenway Alliance Opening Our Doors Day and a complete schedule of events here.