BU Teams with Other Universities to Shut Down Gender-Based Harassment
National Academies of Science, Engineering, and Medicine seek to share best practices in higher ed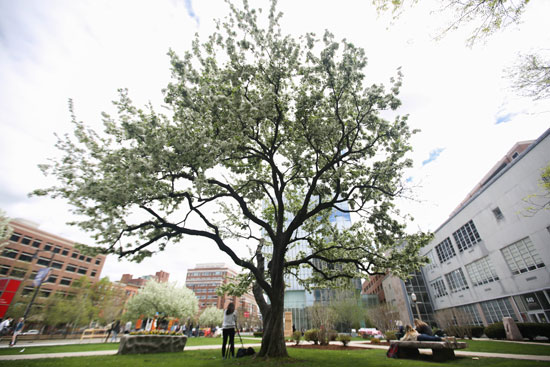 BU is among 40-plus universities and research institutions—4 Ivy League schools, MIT, Duke, and Wellesley among them—banding together to spotlight, measure, and combat sexual harassment in research labs, classrooms, and the administrative suite.
The so-called Action Collaborative is organized by the National Academies of Sciences, Engineering, and Medicine, advisory bodies to the federal government consisting of scientists, engineers, and health professionals. BU's participation is the latest in a string of steps the University has taken to address sexual harassment and assault.
"I don't think we have a good sense" of how prevalent the problem is at the University, says Gloria Waters, vice president and associate provost for research, "and one of our goals may be to determine that, using climate surveys" and other tools.
"An important outcome of joining the collaborative," Waters says, "will be the development and/or adoption of a common set of metrics for measuring harassment declines that could be adopted by the participating institutions." Other goals of the initiative are raising awareness of harassment and sharing policies to reduce and prevent it, she says.
"As the first coeducation medical college in the world and the first American university to award a PhD to a woman," Jean Morrison, University provost, wrote in her letter to the National Academies agreeing to BU's participation, "Boston University has long been committed to providing a welcoming and respectful setting for students, faculty, and staff of all genders."
The University is joining the collaborative, she wrote, "recognizing that a collective effort is needed to prevent and effectively respond to gender-based harassment."
"We hope we can learn from our peers, and we hope they can learn from us, says Jennifer Grodsky, vice president for federal relations. "We can't do the best research or offer our students the best educational experience if we have an environment that excludes or dismisses someone based on their gender. I'm optimistic about where this Action Collaborative will go."
The collaborative grew out of a National Academies report last year that found pervasive harassment in academia. Among the key findings:
Harassment is common in several disciplines, with women medical students experiencing "more frequent sexual harassment perpetrated by faculty and staff than women students in science and engineering."
58 percent of women faculty and staff have experienced sexual harassment.
Women typically don't report harassment because they fear retaliation in some form—and those fears are accurate, the report noted.
Of the three forms of harassment—hostile or objectifying comments and behavior, unwanted sexual advances, including assault, and coerced sexual activity in exchange for educational or professional benefits—the first is the most common, but it increases the likelihood of the others occurring.
The perception among workers that an organization's work climate permits harassment is the most likely to spur it.
In February, a BU-wide group was formed to recommend strategies that would "cultivate a culture of and climate across all disciplines at BU that rejects gender-based harassment." The Working Group on Gender-based Harassment Prevention—which includes Waters and Grodsky—will forward recommendations to Morrison by September 30.
In January, Robert A. Brown, BU president, sent a letter to the Department of Education objecting to the department's proposed narrowing of the federal regulations definition of sexual harassment and to a change that would require a hearing and cross-examination of both an accuser and an accused.
"This would create an intimidating, court-like setting that will chill participation in the Title IX complaint process," Brown wrote in the letter.
The University mandated online sexual misconduct training last year for students, faculty, and staff.
Other initiatives, Grodsky says, include training bystanders to intervene in sexual assault, conducted by the University's Sexual Assault Response & Prevention Center, as well as sexual misconduct awareness and investigation efforts by the Equal Opportunity office.