Hard Truths Wash Up on the Vineyard
Boston Playwrights' Theatre: alum's play eyes the trouble with money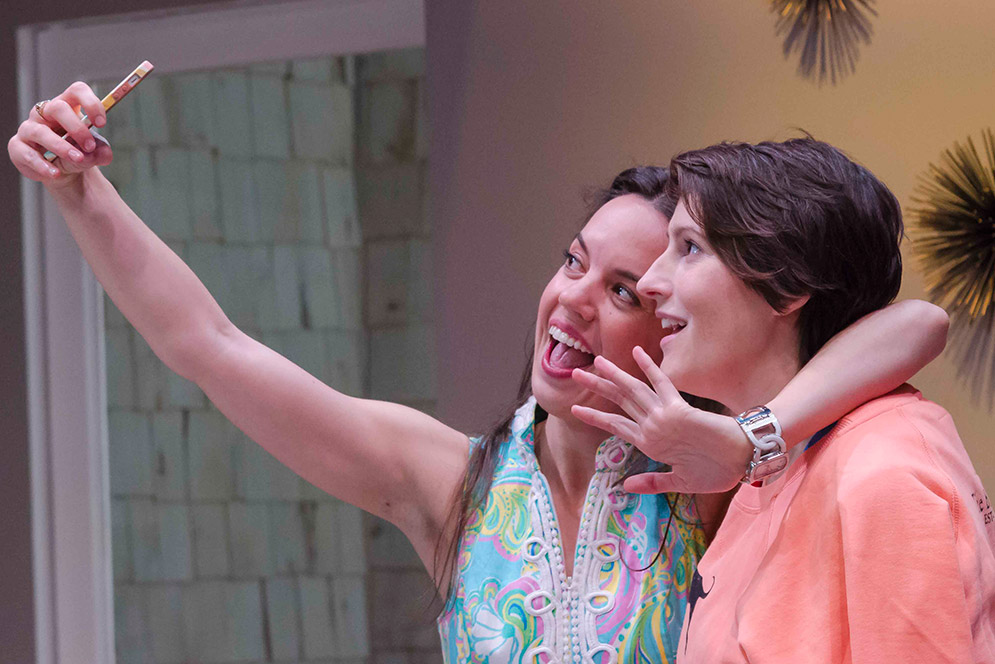 We're at a ludicrously lavish beach estate on Martha's Vineyard, with a poolside fridge full of Cristal. Simone works as a personal assistant to the lady of the house, and she invites her sister, Devon, to visit when her employer and her husband are away. Devon walks in and her jaw drops: "I'm in a freakin' J-Lo movie for the weekend!"
But Devon's got questions. Like, why does Simone keep blowing off their family? Is all this glitz what Simone really wants? To "babysit a rich lady with no kids and no job?"
When the rich lady, Michaela, comes home unexpectedly, Devon learns just how miserable life at the top can be.
Elemeno Pea, a biting comedy by Molly Smith Metzler (GRS'02), looks at the ways that money can hollow out lives and relationships. Directed by Shana Gozansky, the Boston premiere of the play runs from November 2 to 19 at the Boston Playwrights' Theatre, with Lydia Barnett-Mulligan and Amanda Collins as the sisters and Samantha Richert as Michaela; also in the cast are Barlow Adamson and Jaime Carrillo.
A graduate of the BU Playwriting Program, Metzler has written for Orange Is the New Black, where she became pals with actor and fellow alum Uzo Aduba (CFA'05). She currently works on Shameless and has a movie script in the works.
Metzler says the inspiration for Elemeno Pea was a summer job at a fancy yacht club on Martha's Vineyard after she graduated from college.
"I'd never been around people that rich before," she says. "They have boats and they're tanned and they're beautiful and they're eating oysters on the half shell, and it looks like one thing. But then I waited on them and spent time with them and got to go into some of their homes. And by the end of the fall I realized that they were—especially the women—some of the saddest people I'd known. You'd think they would be the most relaxed people in the world, but I found them to be craven and terrified of losing their status, and also just not happy."
Elemeno Pea premiered at the Humana Festival in Louisville, Ky., in 2011, has had numerous regional productions, and was published by Samuel French, Inc. But a couple of years ago, Metzler felt driven to rewrite. "I'm proud that I did, because truly I had no reason to do it—no one was calling for it," she says. "It just was bothering me."
Why is a little tricky to explain without spoilers, but suffice it to say that Metzler decided she hadn't been fair to one of the characters, who offers up a major personal revelation halfway through the play. "What happened was I had a baby, and maybe I grew up a little bit, too," she says. She delved more deeply into the character's emotions in the rewrite, and dialed back the comedy to match.
"If it was just a farce," Gozansky says, "it would feel like just watching people of a certain class being made fun of, and that's really not the purpose of the play.
"For me it's really about inviting the audience in through the comedy and then putting them in the shoes of these people," the director says. "So that way we really feel something and a shift within ourselves when the truth comes out."
Gozansky and set designer Jeffrey Petersen (CFA'18) also had something a little different in mind for the set. In the script, the ocean is visible through a wall of windows upstage. At the BPT, they've turned it around.
"Jeffrey and I decided that the ocean expanse should actually be the audience," she says. "It brings the actors straight to the audience, and you can really get an intimate look at what's happening with them at any given moment. It's a way to utilize the fourth wall that actually creates intimacy."
Elemeno Pea runs November 2 to 19, Thursdays through Sundays, at Boston Playwrights' Theatre, 949 Comm Ave. Tickets range from $10 for students with ID to $30 for adults. Call 866-811-4111 or visit www.bostonplaywrights.org. A talkback with playwright, director, and cast is scheduled after this Saturday's show.
Other plays in the BPT season are Brawler by Walt McGough, directed by M. Bevin O'Gara, March 1 to 18, 2018, and The Rosenbergs (An Opera), music by Joachim Holbek, libretto by Rhea Leman, directed by Dmitry Troyanovsky, with musical direction by Cristi Catt, April 12 to 22, 2018. Subscriptions available: Three-Play Pass, $45.