BU Admissions More Selective Than Ever
Only 25 percent of applicants accepted from record number applying
The Class of 2021 will be BU's most select ever, with just 25 percent of a record 60,815 applicants admitted to a freshman class of 3,400.
"The strengthening stature and reputation of BU has very clearly had a positive impact on our ability to attract high-achieving students," says Kelly Walter (SED'81), associate vice president and executive director of admissions.
This Friday, the University will begin wooing those admitted students with 26 open houses on campus and 45 receptions around the globe, from China to Dubai to Mexico, attended by administration and faculty, students and alumni. The goal is to showcase the University in a way that helps admitted students envision themselves at BU. The deadline for these students to choose BU is May 1.
The students admitted to the Class of 2021 average in the top 7 percent of their high school class, with an average GPA of 3.8 and SAT of 1452 (or ACT of 32). Some 76 percent of those admitted were in the top 10 percent of their high school class.
"For students who are at the top of their class and trying to decide for themselves what university would be a good fit for them, Boston University is often at the top of their list," Walter says. "They know they'll be challenged here, they know they will be pushed and stretched in endless ways, and they know they will be provided with a plethora of opportunities, whether internships or study abroad, and they know they will meet classmates from around the globe."
Gabriela Horle (CAS'21), from Sao Paulo, Brazil, agrees with Walter. Horle is among the 36 percent of the class who chose early decision.
"Through seven years at international schools in South America, I was exposed to a mix of academic and cultural experiences that were fundamental in shaping who I've become," says Horle, who plans to major in biology, specializing in neuroscience. "At BU I will be surrounded by a myriad of nationalities that make up 24.4 percent of the student body, while still being immersed in the American culture."
Elliott Snow (CAS'21), another early decision student, says he chose BU because it's a place that encourages people to really be themselves.
"I'm an awkward trans kid from LA, interested in marine science," Snow says. "I know BU is the right school for me because it will allow me to be independent, but still give me access to an abundant range of amazing opportunities. I think the moment I realized that was when I was discussing my gender identity with Ms. Walter, and she told me to be myself. I think that's when I realized that if a college wasn't going to admit me because of my gender, I didn't want to go to that university."
"When I walked onto BU's campus, I felt a sense of home and community that immediately drew me to the school," says Danielle Chaum (COM'21), of Memphis, Tenn., who also chose early and will study film and television, with a minor in theater. "With a school so focused on highlighting student individuality, yet equally focused on a collective experience, I knew that BU was the place for me to be able to grow personally and meet new people from all over the world."
Walter says the high quality of the class is "good for the University because smart students challenge one another, they challenge faculty, they reinforce the reputation of the University. We want students who are engaged, talented, inquisitive. It makes for a robust experience for everybody."
The University's record 60,815 applications is a 6 percent increase over last year, making it the first private school in New England to cross the 60,000 mark. The steady increase in applications combined with the smaller freshman class size adds up to greater overall selectivity. The University's plan for a moderately smaller freshman class means that BU offered admission to just 25 percent of applicants, down from 70 percent some 15 years ago and about 50 percent as recently as seven years ago.
"The fact that freshman class size has been decreasing over the last seven or eight years has contributed to our overall selectivity," says Walter. "But at the same time, student interest in the University had to grow."
Programs like the Kilachand Honors College, the Undergraduate Research Opportunities Program (UROP), and the internships that benefit 93 percent of students are opportunities that high-achieving students find attractive, she says.
Trustee Scholars are, on average, in the top 2 percent of their high school class, with 4.0 GPA and 1544 SAT (34 ACT) averages. Presidential Scholars average in the top 3 percent, with 3.9 GPA and 1531 SAT (34 ACT) averages. Students admitted to Kilachand Honors College also average in the top 3 percent of their class, with 3.9 GPA and 1515 SAT (33 ACT) averages.
About 20 percent of admitted students are underrepresented minorities, with 7 percent African American (an increase of 15 percent), 12 percent Hispanic or Latino, and 1 percent Native American.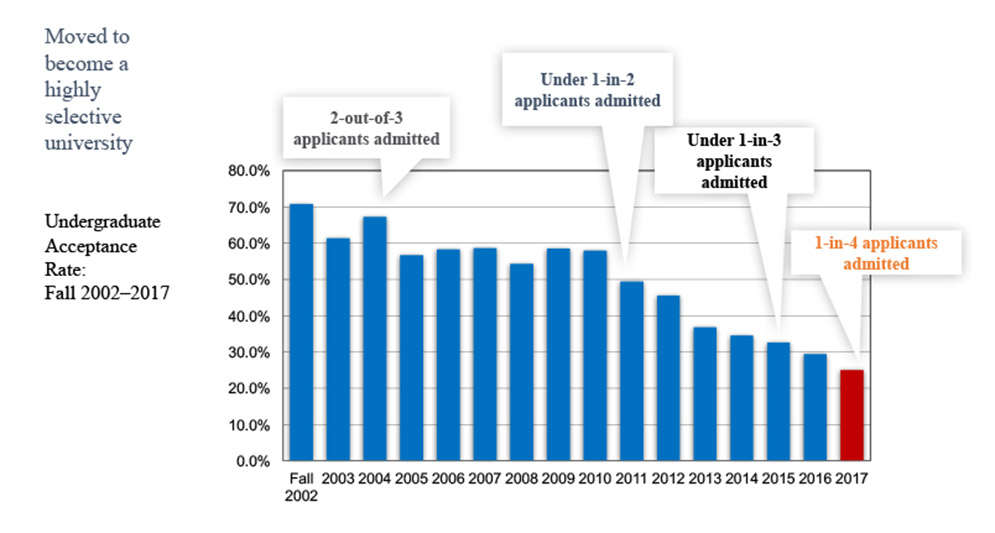 Walter points out that 16 percent of admitted students are those who will be the first generation in their families to go to college. "The cost of a private university education can seem prohibitive for many prospective students who are the first in their family to attend college," she says. "However, BU has a strong commitment to access, a commitment to affordability for all students regardless of socioeconomic background, and we are proud to be in the position to attract students who might otherwise assume that a BU education is out of reach."
BU has expanded its outreach to low-income and first-generation students, working closely with community organizations to help them with the college admissions process. "We did very little of that 15 years ago, and now it is a strategic priority," Walter says.
Admitted students came from all 50 states and 113 countries besides the United States, including outliers such as Malta and Tajikistan. Some 24 percent of those admitted are international students, from the same top five countries as in previous years: China, India, Korea, Taiwan, and Canada. The top five US states represented are California, New York, Massachusetts, New Jersey, and Florida.
Nearly 40 applicants are citizens of the countries named in President Trump's travel ban, including Iran and Syria. Walter says only a handful of these students were competitive for admission, but the Board of Admissions felt strongly that these students should be admitted if their applications proved meritorious, and their citizenship did not disadvantage them, Walter says.
"It's so important for us to demonstrate our commitment to students from abroad," she says, citing the investment required by students and their families. "Just showing up and answering their questions, being there to help them understand the institution, which they may never have seen in person, is reassuring."