Shopping Secondhand
Big discounts for Halloween and all year
Last summer's enormously popular hit "Thrift Shop"—the top digital selling song of 2013 according to Nielsen SoundScan—by chart-topping rap stars Macklemore and Ryan Lewis, is a witty anthem to the virtues of shopping secondhand. The lyrics describe all the bling you can find on a $20 budget if you shop thrift—explaining why so many people love the experience.
The used merchandise, or resale, industry has become big business. The market analysis firm First Research reports that consignment and thrift shops have become a $13 billion a year industry, popular among shoppers of all ages and economic demographics.
Fortunately for budget-conscious students, Boston is filled with thrift and consignment stores. What's the difference between the two? Thrift stores, such as Goodwill and Boomerangs, are run by nonprofits to raise money for their charitable causes and accept donations of clothing, housewares, books, bric-a-brac, and furniture. Consignment shops accept items from owners and display them for a period of weeks or months. If the item sells, the seller and the store share the proceeds. Both offer great buys for shoppers.
With Halloween less than 10 days away, students will be flocking to area secondhand shops for costumes and decorations. But they're a great place to shop year round, whether you're looking for a business suit for a job interview or furnishing your first off-campus apartment. We've put together a list of some of the best and what they carry. If you have a favorite that we haven't mentioned, add it in the comments section below.
Close to Campus
Encore Exchange
318 Harvard St., Brookline; 617-566-4544
Open Wednesday through Saturday, 11:30 a.m. to 4:30 p.m.
Tucked inside the Arcade Building in Coolidge Corner, this small consignment shop features Louis Vuitton bags, faux and real pearls, animal brooches, hats, and designer clothes. The store doesn't carry vintage clothing (although vintage jewelry is available), or anything that's more than two years old. Jewelry prices start at $10, and these deals are especially notable: buy two items and get a 10 percent discount, buy three for 15 percent, and buy four for 20 percent. A genuine strand of pearls was on sale for $399. The high-end designer rack boasts Valentino dresses and Armani jackets.
Buffalo Exchange
180 Harvard Ave., Allston; 617-779-7901
Open Monday through Saturday, 11 a.m. to 8 p.m., Sunday, noon to 6 p.m.
The Allston location of this nationwide network of consignment shops (there is also a store in Somerville) offers a variety of modern clothing and accessories, including Cougar rain boots ($26.50) and Miu Miu booties ($275). Most items average about $15, and you can sell or trade items (you get 50 percent of an item's value if you're trading, 30 percent if you want cash). This is also a great place for Halloween costumes and it has two Halloween incentives right now: you can you enter for a chance to win a $100 gift card by sharing a group photo of you and your friends (two or more people or pets) in Halloween costumes and you can also sell back your old Halloween costume through November and receive $10 off your next purchase (see details here).
Goodwill
965 Commonwealth Ave., Allston; 617-254-0112
Open Monday through Saturday, 10 a.m. to 8 p.m., Sunday, noon to 6 p.m.
Shopping at donations-only Goodwill is easy, with clothing organized by type (shirts, pants, dresses) and then by color. On a recent day, men's and women's jeans were $6.99, a Banana Republic woman's button-up blouse $4.99, and many other bargains were tucked away. In front near the cash registers were bracelets, watches, and necklaces for $4.99, earrings for $3.99. The back offers electronics, books, and housewares, which start at 25 cents. Our best find was a pair of blue American Eagle flats for $7.99. If those bargains aren't enough to get you into the store, here's another incentive: during October, for every $1 you donate to Goodwill to support its job training and employment programs, you receive a Trick-or-Treasure scratch-off ticket, worth up to 50 percent off on a purchase in November. The store also has extended hours on select days in October and half off discounts on a colored tag every week.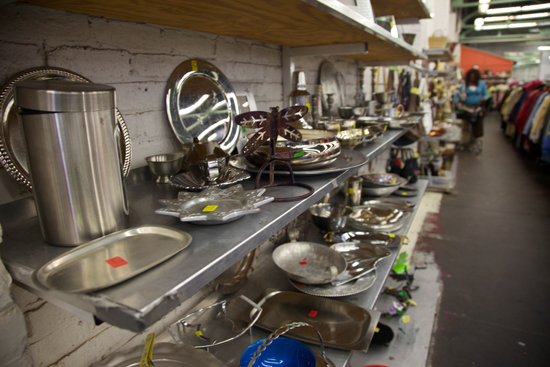 Urban Renewals
122 Brighton Ave., Allston; 617-783-8387
Open Monday through Wednesday and Saturday, 9 a.m. to 6 p.m., Thursday, 10 a.m. to 8 p.m., Sunday, noon to 5 p.m.
The shopping experience here resembles what you'd find at any Goodwill or Salvation Army store. Merchandise is organized by category: clothing, shoes, suitcases, housewares, furniture, and electronics; items are organized by type and then color. The vast space stretches over two store lots, so you'll need to wear comfy shoes. College students can outfit an entire apartment here. You'll find a range of things, from Scooby Doo slippers ($3.99) to a pair of black heels ($2.99) to a shell-shaped plate ($2.99). Sales rotate among departments, so on any given day, books, toys, men's clothing, and so forth could be as much as half off. The donations-only store does not accept refunds or exchanges. There are no dressing rooms, and only cash is accepted. One more tip: the store is packed on Wednesday, senior citizen discount day, so if you're looking to browse quietly, it's best to pick another day.
Boston
Boomerangs Special Edition
1407 Washington St., Boston; 617-456-0996
Open Tuesday, Wednesday, and weekends, 11 a.m. to 6 p.m., Thursday and Friday, 11 a.m. to 7 p.m.
Pause for a moment to admire the window displays before entering one of Boston's most popular thrift stores. On a recent day, smartly dressed mannequins were posed between a $395 pair of crystal candelabras. The proceeds benefit the AIDS Action Committee of Massachusetts. Boomerangs has four locations in the Boston area, with this store selling more upscale items, handpicked by manager Adam Oliveri. With high-end brands such Hermès, Ralph Lauren, Marc Jacobs, and Henry Mendel, much of the merchandise looks like it came from a Madison Avenue boutique. These luxury items cost more, but there are still plenty of cheap bargains to be found, including men's jeans for $10. In addition to clothes, the store sells LPs, CDs ($3 each, 4 for $10), DVDs, furniture, jewelry (a pair of sterling silver black onyx earrings for $30), books, and more. Find a list of locations here.
Lola's Urban Vintage
SoWa Open Market, 460 Harrison Ave., Boston; 617-780-0182
Open Sunday, 10 a.m. to 4 p.m.
Formerly in a brick-and-mortar store on Harvard Avenue, Lola's is now online and on wheels. Find new, vintage, and handmade items on the store's website and on its truck, which is parked each Sunday at the SoWa Open Market. A Tribal leather jacket was recently on sale for $50, and you can find lots of unique earrings for around $10. Give owner Nicole Lyons a call to locate the truck, which on Mondays, 11 a.m. to 3 p.m., is at 600 Atlantic Ave., in Dewey Square.
The Closet
175 Newbury St., Boston; 617-536-1919
Open Tuesday, Wednesday, Friday, and Saturday, 10 a.m. to 6 p.m., Thursday, 10 a.m. to 7 p.m.
Shoppers don't typically associate Newbury Street with bargains. But this consignment shop offers good deals for those seeking upscale labels. The small space sells women's and men's clothes, shoes, and high-end designer bags, with some serious bargains to be had: a $150 sequined Michael Kors dress, tags still attached, was recently selling for just $68, a pair of black suede Prada heels for $99, a men's Antonio Fusco shirt with green stripes for $39. Items on the floor for a month are discounted 25 percent, and select items out for two months are half off, so if you see something you like that's a bit out of your price range, it pays to keep going back. Don't expect to find vintage here, as only items two years old or less are sold here.
Second Time Around
176 Newbury St., Boston; 617-247-3504
Open Monday through Saturday, 10 a.m. to 8 p.m., Sunday, 11 a.m. to 7 p.m.
Directly across the street from the Closet, Second Time Around has various locations around New England, three on Newbury Street alone. This one is the largest—spread out over two floors and offering a wide selection of dresses, a men's section, and a discounted section. Don't be surprised to find Manolo Blahnik kitten heels for $138, Hunter boots for $69, an orange Tory Burch cardigan for $99, and a men's purple Lacoste polo for $45. The marking system is similar to the old Filene's Basement: items on the floor the longest have the steepest discount. As a consignor, you can use your earnings as store credit and get a 10 percent bonus. Refer a new consignor and get $10 store credit. The Harvard Square shop has vintage items. Subscribe to the store's mailing list and receive 10 percent off.
Cambridge
Garment District
200 Broadway, Cambridge; 617-876-5230
Open Sunday through Friday, 11 a.m. to 8 p.m., Saturday, 9 a.m. to 8 p.m.
Some shoppers think of this as the place to search for a Halloween costume, but bargain-hunters can find deals year-round. Home to Boston Costume and By the Pound, it sells designer shoes (a pair of Cole Haan high heels for $20 and Steve Madden pumps for $7) and designer men's ties, a steal at $3, among many other things. Looking to make some room in your closet? Starting November 6, the store will buy clothes Wednesdays through Saturdays, from noon to 7 p.m. Twice a year, it shuts down to replace the entire inventory, a big job considering its more than 40,000 pieces of vintage and contemporary clothing and accessories, including professional theater clothing and costumes organized by decades, from the roaring '20s to the '90s. Make sure to head to the bottom floor, where you can stuff your basket and pay just $1.50 per pound. The Garment District is committed to charity, buying clothing from many charitable organizations. Anything that doesn't sell is donated to developing countries.
MIT Furniture Exchange
350 Brookline St., Cambridge; 617-253-4293
Open Tuesday and Thursday, 10 a.m. to 4 p.m., first Saturday of each month, 10 a.m. to 1 p.m.
A service project of the MIT's Women's League for 55 years and counting, the MIT Furniture Exchange sells used furniture and household goods at bargain prices to members of the Boston University, Harvard, MIT, and Suffolk University communities, with a valid university ID. All proceeds benefit the MIT Women's League Scholarship Fund, which provides annual financial support to MIT women undergraduates.
Oona's Experienced Clothing
1210 Massachusetts Ave., Cambridge; 617-491-2654
Open daily, 11 a.m. to 8 p.m.
Buy, sell, or trade men's and women's clothing at this resale boutique in the heart of Harvard Square. High-quality items from lesser-known brands, the store's inventory is primarily clothing from the 1960s or earlier. Oona's holds a $2 yard sale at the end of the summer and another steeply discounted sale in January on select merchandise, such as wool coats and scarves. You can find a warm winter jacket for $75 on one rack and chic (and not-so-chic, but perfect for that annual ugly Christmas sweater party) sweaters on the opposite rack starting at $20. Other great finds include faux leather jackets starting at $30 and scarves starting at $6. Join Oona's mailing list and follow the store on Facebook for updates and deals.
Raspberry Beret
1704 Massachusetts Ave., Cambridge; 617-354-3700
Open Monday through Saturday, 11 a.m. to 7 p.m. (Thursday to 8 p.m.), Sunday, noon to 6 p.m.
Host a shopping party, bring in some gently used clothing, or just stop by to take advantage of this consignment shop's many in-store sales. Although much here is on the pricier side, Raspberry Beret offers an eclectic mix of youthful Urban Outfitters–type clothing and a special rack of high-end designer clothing, where you might find a black Marc by Marc Jacobs button-up shirt for $26 and a floral Betsey Johnson skirt for $22. Our great find during a recent visit? A small LeSportsac bag for $40. Most of the merchandise is displayed on crowded, non-color-coordinated racks, which means you may have to work a bit harder to find what you're looking for, but the store makes it easy to pay via smartphone with Level Up. It also offers online shopping. Be on the lookout around town for members of Raspberry Beret's street team handing out coupons and special deals.
Sonia Su can be reached at ssu@bu.edu; follow her on Twitter at @SoniaSu_.