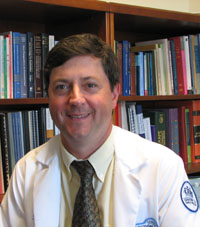 Brian Jack
Professor; Chair of the Department of Family Medicine, School of Medicine
Brian Jack, MD, is Professor and Chair of the Department of Family Medicine at Boston University School of Medicine and Boston Medical Center. Dr. Jack graduated from the University of Massachusetts Medical School and completed his residency training at the Brown University/Memorial Hospital where he was Chief Resident. He completed a fellowship in High Risk Obstetrics at Sacred Heart Medical Center affiliated with the University of Washington. Dr. Jack came to BU in 1997 from Brown University, where he was founder and director of the department's maternal and child health fellowship program.
He has an active family medicine practice that includes high risk OB and cesarean section. He has authored over 100 peer-reviewed articles or book chapters, reviewed papers for major medical journals, served on NICHHD, HRSA and AHRQ grant review panels. He is PI on grants from HRSA, PCORI, AHRQ, NHLBI and NIMHD. His research team has developed the "ReEngineered Discharge" (Project RED), adapted by the National Quality Forum as a national "Safe Practice". RED is being used at hundreds of hospitals across the county. He is a member of the CDC's "Select Panel on Preconception Care" and co-chairs the Clinical Care Committee. He received the 2008 CDC "Partner in Public Health Improvement award, the Patient Care Award for Excellence in Patient Education Innovation award, the AHRQ Patient Safety Investigator award and the Best Research Paper of the Year award of the Society of Teachers of Family Medicine.
He was selected to HealthLeaders magazine's annual "People Who Make Healthcare Better" list. His article describing Project RED is contained in the book "50 Studies Every Doctor Should Know". Dr. Jack has also been active in the worldwide development of family medicine. He is Director of a Kellogg Foundation, PEPFAR and EU funded program in Lesotho that aims to improve the quality of district health services. He is a founding member of the AAFP's Center for International Initiatives. He spent a sabbatical year in Budapest, Hungary in 1995 where he received a special citation from the mayor of Budapest. He taught the first ALSO courses in Jordan and Pakistan and has served as a consultant to USAID, the World Bank, the US Department of State and the Rockefeller Foundation on the development of family medicine in Lesotho, Albania, Jordan, Romania, and Vietnam.