PRoBono 2019 Recap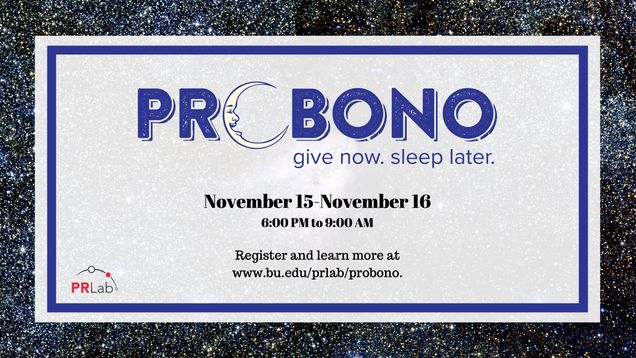 It wasn't your average college all-nighter. Armed with pizza, snacks, plenty of caffeine – and a whole lot of spirit, savvy, and smarts – more than 120 BU students came together for PRoBono 2019, our 7th annual overnight communications PR-a-thon on behalf of five nonprofit organizations:
For 16 hours, these graduates and undergraduates teamed up to rebuild web sites, develop media strategies, and kick-start campaigns designed to reach new audiences, build fundraising momentum, and raise awareness for good causes.
At the kickoff general session, following a keynote presentation from Jon Spack on the important benefits of working in the nonprofit sector, the teams received their mission and assignments from their clients. Following their meetings, they went to their team rooms to roll up the sleeves and begin the hard work – from research through execution. For a look behind-the-scenes at PRoBono, check out Boston University student Hedy Zhou's vlog.
Of course, it wasn't all-work/no-play – it's college after all, right? At 2 a.m., the teams assembled and recharged for the "PRoBono Olympics" – a series of team-building games with prizes for the winners. Heartfelt thanks go to our terrific PRoBono sponsors: T. Anthony's, UGrill, Scoozi, Sway Spa, the BU Bookstore, Pavement Coffee, and Ben & Jerry's. 
By 8 a.m. the following morning, teams regrouped once again to present their deliverables to their clients who returned to see the final presentations. Together, they connected over a shared passion, enthusiasm, and the mission of their organizations. 
As PRoBono came to a close, the impact of the evening was memorable for not only our clients but our volunteers as well. Collectively, they logged 1,666 hours and delivered more than $200,000 of PR support for our clients, before heading off to some well-earned rest and recovery – living out PRoBono's motto: "Give Now. Sleep Later."