PRoBono 2022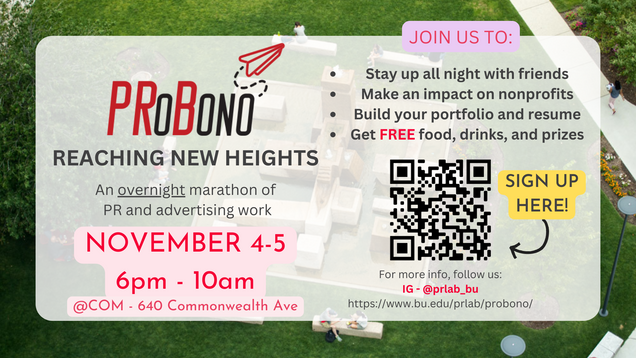 Most college students have pulled all-nighters before exams or final presentations, but this is unlike any other late-night cram session.
Every year, Boston University students gather in the College of Communication for PRoBono, PRLab's annual overnight hack-a-thon-styled communications marathon where students work overnight to develop, design, and create tangible deliverables for deserving non-profit organizations.
This year, we're excited to be working together in person again! Join us for an exciting night of games, PR celebrity appearances, fantastic prizes, and much more, on November 4 from 6 p.m. – November 5 at 10 a.m.
The agenda for the night is below, check it out!
Follow PRLab on Instagram for updates on clients, food, and prizes!
To register for PRoBono 2022, click here!