Register to be a PRoBono Volunteer
Calling all PRoBono Volunteers:
As a student participant in PRoBono, you'll provide in-kind donations of communications services to nonprofits in the greater Boston area. BU undergraduate and graduate students hailing from all colleges/schools and all majors are welcome to attend and participate in PRoBono.
Why should I sign up for PRoBono?
To network with industry professionals

To bolster your resume and your professional portfolio with your PRoBono 2019 work 

To experience the energizing working environment of the advertising, communications, and public relations industries firsthand

To craft a strategic communications campaign for a nonprofit in the greater Boston area

 

To make a positive difference for a local nonprofit

To put your education to the test

To enjoy some fun and some free food
How does PRoBono work?
Boston University undergraduate and graduate students of all experience levels and all majors come together to conceptualize and craft public relations deliverables and strategic communications for nonprofit clients. Throughout this marathon of creating PR strategy and tactics for local, mission-driven organizations, students develop public relations strategies and deliverables from strategic PR plans to press kits to social media calendars and everything in between.
At the culmination of each PRoBono, mentors, including Boston University professors and seasoned professionals in the public relations and advertising industries, provide constructive criticism of the work produced. After that, students present their work to PRoBono's nonprofit clients.
Please see below for PRoBono recaps from 2013 through 2017.
PRoBono 2017 Recap

PRoBono 2017 took place from 6 p.m. on Friday, November 3, to 12 p.m. on Saturday, November 4, in COM 217. The event was truly a success. To see an event recap, see our blog post.
PRoBono 2016 Recap

PRoBono 2016, held November 4-5, aimed to give back to five nonprofit organizations making a difference in our community, and help BU students transform into well-rounded professionals. Check out a recap of the event at the BU COMmunicator. A team of six students worked hard to plan the event, including, securing sponsors to donate food and raffle prizes, confirming professional coaches to come on Saturday morning to help students polish their work, recruiting student volunteers, and determining five non-profit clients (Greater Grove Hall, Main Streets; Living Assistance Fund; Skate for the 22; Julie's Family; and Adopets).
At the event, attendees heard inspirational opening talks from BU COM professors Dr. Edward Downes and Dr. Arunima Krishna. Then the students got to work, meeting with clients and planning out how they will fulfill the scopes of work. After several snack breaks and brainstorming sessions, the teams got down to work and spent all night bringing their deliverables to life. At 9 a.m., eight professionals and professors joined the students to help them finalize work and prepare the client presentations. At 11 a.m., clients returned to meet with their individual teams. While exhausted, the students completed professional presentations and then had discussions with the clients about next steps and transitions.
PRoBono 2016 was a resounding success. We received accolades from our professional consultants and Boston University staff citing our "energy and passion" and "drive and determination" and calling ProBono "exceptional" and a "sincerely great event." The clients were surprised and impressed with the quality and quantity of work our students delivered. They appreciated the creativity and strategy the students showed and all plan to use the materials in their organizations. Students participating in PRoBono received experience in teamwork, client service, public relations strategy, and content creation, and portfolio-ready work.
PRoBono 2015 Recap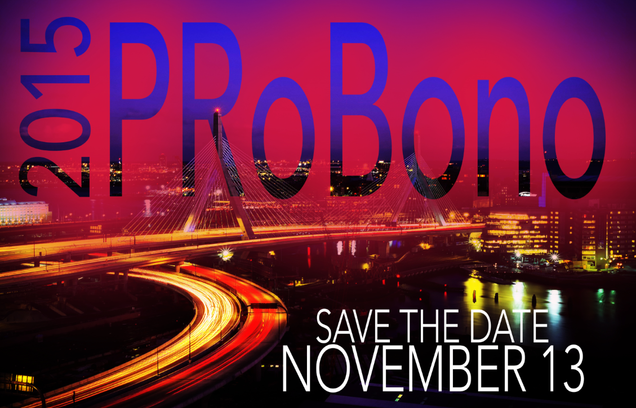 On Friday, Nov. 13, PRLab, Boston University's student-run PR agency, hosted the fourth PRoBono event. Partnering with AdLab, BU's student-run Ad agency, the event showcased not only the talent of the College of Communication's PR and advertising students, but their dedication to strengthening the greater-Boston community by giving up 18 hours of their time to produce PR and adverting work for five nonprofits, free of charge.
After BU students worked on their clients' business objectives from 6 PM on Nov. 13, to 9 AM on Nov. 14, they presented their work to a panel of judges. The panel was comprised of working professionals and professors who offered up criticism so students could incorporate edits before they presented their final products to their respective clients at 11 AM. Panelists included BU professors as well as a representative from 451 Marketing.
The 2015 clients include: Cradles to Crayons, The Environmental League of Massachusetts, Play Ball! Foundation, Project Citizenship, and Red Sox Foundation. Deliverables for the event included everything from intricately designed brochures and advertisements to innovative social media campaigns and practical new releases.
To keep energy up throughout the event, provided students with free ice cream from long-time PRLab client, Ben & Jerry's Boston, and the opportunity to spin the prize wheel on top of every hour. For the event, various gift cards and prizes were generously ­donated from local businesses such as Eastern Standard Kitchen and Drinks, UBurger,Giacomo and Rondi Salon and even the New England Patriots.
PRoBono 2014 Event Recap
In the fall of 2014, PRLab once again teamed up with BU's student-run ad agency, AdLab, to host the third PRoBono event. The overnight PR and advertising marathon took place from 6 p.m. on Friday, November 21, and ran until 12 p.m. on Saturday, November 22. Over the course of 18 hours, students worked together to provide PR and advertising work to nonprofit clients free of charge.
For the fall 2014 PRoBono event, we worked with five nonprofits including, Urban PRIDE, Gifts to Give, Wish of a Lifetime, Technology for Autism Now and Holly Hill Farm.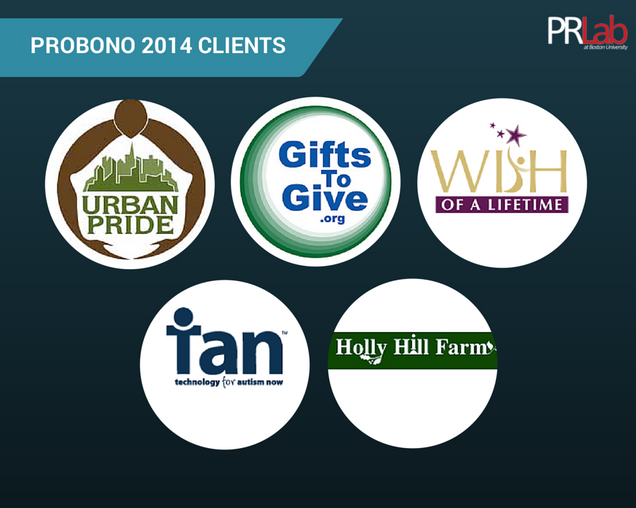 At the end of the event, students' work was critiqued by a panel of judges which included professionals in the PR and advertising industries. Throughout the night, we offered food and fun activities, such as raffle prizes, contests and surprise visits. Check out our Twitter stream for a play by play of the event.
Want to learn more about PRoBono? Check out our coverage from past events:
Photos/Video:
PRoBono 2013 Event Recap