BUnano Cross-Disciplinary Fellowships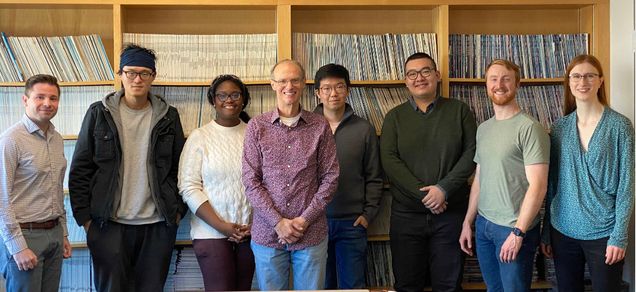 The Boston University Nanotechnology Innovation Center (BUnano) awards up to ten Cross-Disciplinary Fellowships per year to outstanding Boston University doctoral students conducting independent research under the mentorship of nanoscience and nanotechnology researchers at BU. This fellowship supports students who are engaged in interdisciplinary nanoscale science and its practical applications to benefit society in the broad areas of medicine, energy, nanomaterials, and nanofabrication. Given the interdisciplinary nature of nanoscience, these fellowships are appropriate for doctoral students from a variety of scientific, medical, and engineering disciplines. Cross-Disciplinary Fellows are required to collaborate with mentors from different fields.
In Fall 2023, four students were awarded BUnano Cross-Disciplinary Fellowships:
Monan Ma (ME)
Paige Woods (BME)
Emily Chang (BME)
Zelin Miao (MSE)
BUnano Cross-Disciplinary Fellows join a community of researchers with unique educational and networking opportunities. In addition to research, Fellows participate in activities including coursework, symposia, and community outreach to help prepare them for leadership roles in the realm of nanotechnology.
Eligibility
Current PhD or MD-PhD students entering their second or third year of graduate study, who have shown exceptional scientific talent and are committed to a specific research project in the area of nanoscience or nanotechnology are eligible to apply. The interdisciplinary nature of nanotechnology makes this fellowship applicable to talented students from a broad spectrum of disciplines from the Graduate School of Arts & Sciences, the School of Medicine, and the College of Engineering.
Once admitted to the program, Fellows are required to take one course focused on nanotechnology or nanomedicine, broadly defined, to gain an overview of nanoscience applications in medicine, energy, or fabrication, depending on individual research interests.  Students are also required to participate in a monthly journal club. Each Fellow will receive graduate stipend support and up to $750 to attend relevant conferences or other appropriate professional activities during their time in the Cross-Disciplinary Fellowship program.
This BUnano program is supported in part by the Colleges of Engineering and Arts and Sciences and the Departments of Chemistry, Materials Sciences and Engineering, Mechanical Engineering, Biomedical Engineering, and Electrical and Computer Engineering.
BUnano is committed to fostering a collegial culture grounded in diversity and inclusiveness. We encourage applications from all students who would contribute to the diversity of our community.
For more information about Cross-Disciplinary Fellowships, please contact Mariam Stepanyan.